Finally got out to the range this morning to pattern my recently bought (6 mos ago) Mossberg 835 Turkey 12ga. This shotgun has a 20 inch barrel and will accept 3-1/2 inch loads. It uses fiberoptic sights.

Loads were Dead Coyote 2-3/4 inch "T" and Federal "00" 3 inch plated shot.Chokes used were the Carlson "Dead Coyote" .660 and the Mossberg X-Factor Turkey .695 that came with the gun.I set my target board out 40 yards and used sandbag rest. The target board was made of 3/4 inch plywood, using a PVC homemade base.First patterning target was using the Mossberg choke and using 1 round of each type of ammo. As shown in the picture, the black dots are of the DC load, and the squares are of the 00 load.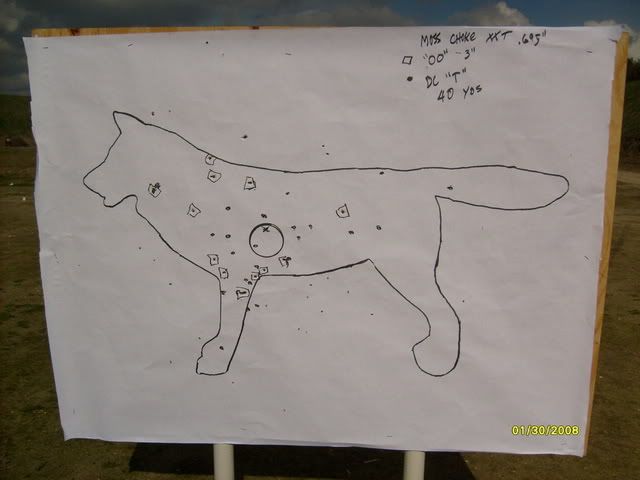 Second patterning target was using the Carlson DC choke, with 1 round each. Dead Coyote "T" load is shown in squares, with black dots as the 00 load.
I am interested in just what you fellow shotgunners think of these patterns. Being this is my first time out with a shotgun since the '70's when bird hunting, this is alot different game. To me, the Mossberg provided choke seems to be alot tighter than the Carlson, but seems about equal in either one the number of hits on the body of the target. Any comments are welcomed.John