I took a friend from work and his young son Jesse out crow hunting this morning. My friend is an avid duck hunter and had never been crow hunting before. I'm not exactly sure how old his son is but I'd guess he is about eleven. This is his second year hunting but the ducks haven't been giving him much to shoot at this year so I figured a crow shoot was in order. I took half the day off of work on Friday and built a proper blind to make sure I could stack the deck in his favor against those crows. It was really cool seeing the look on that young hunters face as we all hunkered down in the blind, getting ready to spring our trap on some incoming birds. That kid can shoot his little 20ga 870 alongside the best of 'em.
Me & Jesse with a bunch of crows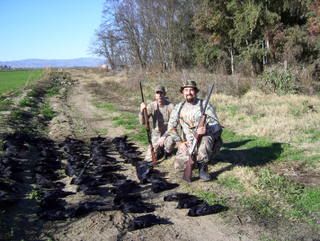 new blind on the right. Doesn't my buddy look like Sam Elliot?
I wasn't sure how many birds were on the ground after a while I had a feeling that we were getting pretty close to filling our daily limits so to keep everything legal I called my brother out so we could keep the crow train rollin'. About the time he showed up the battery in my caller was going dead so I spent the last hour and a half or so calling in the birds the old fashioned way. I'd just got a new call from Braz and it was a big help in saving the hunt after the machine died. The new call has a deeper tone than my old call so I used them both to simulate multiple crows calling and fighting. The deeper mello tone works well by itself for calling in single birds that are just coasting along don't feel like dealing with drama of a noisy crow fight.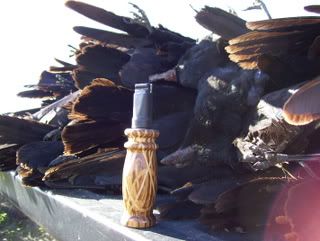 Here's my new crow call that Braz made for me.All together we had 71 birds that we could find and we dropped around 16 in the eucalyptus jungle that we were next to. I think that is a new record for my crow hunting spot.