We had the topic of power case trimmers on the old forum. I think some of you would be interested in it again. I have reloaded for what seems like forever, over forty years. I started as an inexpensive way to get ammunition for my centerfire guns and shotguns. The part I disliked and took the most time for me was case trimming. It is a necessary evil related to reloading. From my old trim dies and a file to Forster trimming tool to a Possum Hollow case trimmer. I would sort my cases just to keep from having to trim and then grudgingly trim a bunch at a time. The Possum Hollow case trimmers are nice and if you don't mind using an electric drill then it is relatively painless and somewhat faster. But it still isn't the perfect solution and if the Possum Hollow trimmer isn't held correctly and cleaned regularly it just doesn't cut enough. It can produce a great callus or blisters after a hundred cases. This is because you try to rotate the case in the trimmer to get all of the brass trimmed. You also have to chamfer the inside and outside of the case separately. It works and I've done thousands and thousands of cases with them. I was looking for something to do hundreds of cases at a time and I researched the two true powered models. Both of these models trim as well as chamfer the inside and outside of the case. This is the real time and finger saving procedure. The Gracey and the Giraud. The Gracey is powered but is more of a powered pencil sharpener. It is also quite messy as the trimmed brass goes everywhere. It is very similar to a powered Possum Hollow just faster. It just isn't built to the standards of the Giraud and you can see that in the pictures. You'll want to wear safety glasses and a face shield using the Gracey. There is a protective shield that is supposed to keep the brass in but it doesn't work well. It also gets loose and lost rather quickly. The Gracey has a tendency to not clean the shaved brass as well as the Giraud. It works but is not the finely machined and built trimmer that the Giraud case trimmer is. Here are some pictures and links for you to look at if you are interested in any of these.
Possum Hollow Kwick Case Trimmer about $19 per caliber plus holder.
http://www.sinclairi...5-7X&type=store
Gracey Power Cartridge Case Trimmer about $277 one caliber.
http://www.matchprep.com/
Giraud Power Trimmer about $365 one caliber.
http://www.giraudtool.com/index.htm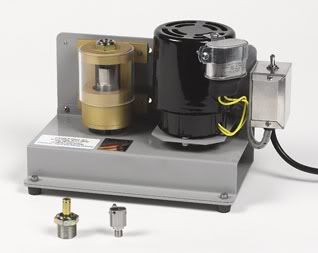 A final note here about my Giraud. I bought several calibers for my most used rifles. There is some setup time changing the tool heads but not bad. When I first got the Giraud I retested some of my formerly trimmed brass. I was shocked that there was brass that hadn't been removed on some cases. I found this due to the fact small shavings were coming between the case trimmers and the trimmer itself. This didn't allow the case to be fully trimmed. The Giraud because of it's design allows the trimmed brass to fall down and away from the case and into a clear material compartment. You can easily see and empty this when necessary. I have been able to do thousands of cases a day easily. My wife even did 4000 cases for me one afternoon just sitting on the patio. That paid for the trimmer for me. Either model or design you use these models speed up the process of case trimming.Best of luck...John