I received my new Big Country Bandit a week ago and wanted to share a few pictures with you as well my impressions of the unit.I called Minaska on a Wednesday and told them I was having difficulties with my FoxPro (which I am mailing back next week for service) and that I wanted to leave to go on a hunt first thing Saturday morning. I asked him if he could call a Big Country Bandit to me by Friday so I could make my weekend hunt. Absolutely he could with over night shipping.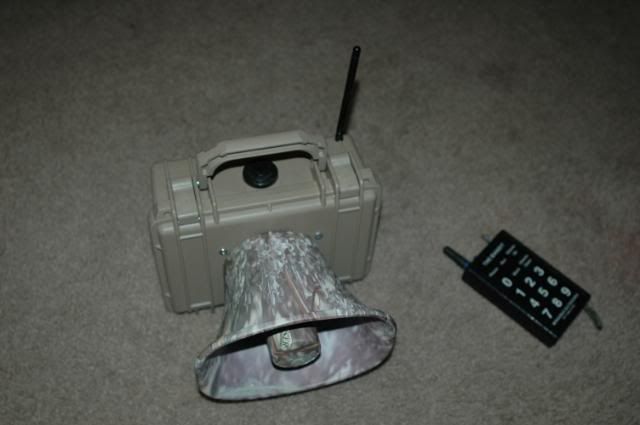 As promised, the unit arrived early Friday morning and I had the opportunity to play with it a bit and try to become familiar with how it worked as I packed the truck for my Saturday departure. I pulled it out of the box and started charging the battery after assembling the charger. I pulled the memory card and sat down at the computer to check out the sound loading and label printing software. It is a pretty simple program which I was able to master with out having to read any instructions. The Compact Flash (CF) card that came with the unit is loaded with 100 sounds which are split up into 10 "banks" of 10 sounds. The software makes it simple to add the sound you want into the bank and slot you desire. You will see what I am speaking of in the picture below. Another cool feature that I like is the ability to play the sounds from the program to help you decide which ones to use. No need to go to another program to preview your sounds!
There are several features of this unit that I really like. This unit and its dual speakers are capable of producing more volume than my FX5 with a higher quality sound than my FoxPro unit. The same sound played on both units is noticeably clearer on the Minaska. The remote is simple to use with big easy to see buttons which glow in the dark which makes night time and low light calling a snap. I love how the caller responds almost immediately to the remote. I was also pleased to discover that with the unit muted selecting a new sound on the remote automatically un-muted the caller and began playing the sound at the last selected volume level.
The unit is pretty simple with just one button to turn it on and a green LED to let you know the power is on. It has 4 jacks that are for recharging the 12 volt lead sealed acid battery, an external jack for the optional external speaker, the auxiliary jack for a remote operated decoy and the audio in jack for playing sounds from an external source such as CD or MP3 player.
My first night out with the Minaska it worked flawlessly and pulled in several animals, with a bobcat and coyote coming in on our first stand with this call. We used it all night long and some into the next day on the same battery with out a charge. My only complaint with this unit so far is the power switch on the remote control. It is a three position switch that is easily bumped and turned on.
Overall, I am very pleased with this unit and can imagine that it is going to be my primary night time hunting caller and will be especially useful on those days when it is windy. If you're like me and hunt when the time is afforded to you and not necessarily when you
WANT
then you may find yourself hunting on a windy day when you really need to get the sound out there.And I will end this post here with a picture of the first animal that was taken with the new unit.