Just got back from another Oregon trip last night. Lots of snow & below freezing temperatures, but I enjoy winter time so it was nice. We had dinner at a small local restaurant friday night and met a young waitress who had moved up to Oregon from California several years ago with her family. It was about closing time so we got to talking with her about the area, surrounding property, the local colleges, and everything else. She told us that she lived on 79 acres with her family and when I mentioned hunting, she said "there's NO hunting them, but you should see the elk on our property".
Of course I jumped at this and she invited us out to see them. Here's a pic:
I couldn't get them all in one picture, but there were 3 very nice bulls. We also saw turkeys: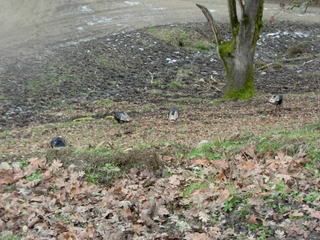 And LOTS of geese: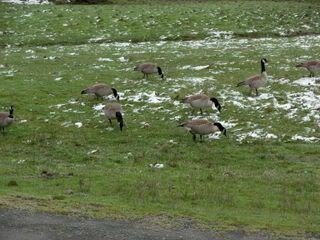 Plus we almost hit a 3x3 on our way north through Ashland and there were 2 turkeys running through the front yard of the house we're probably going to move into. I simply can't wait to get moved & settled in so that I can start exploring the backroads in anticipation of the '07 hunting season. I have the feeling I might need a bigger freezer...