I had planned on meeting a rancher and his son at 10:00 am this morning to help them move some cattle. So I decided top get in some calling stands before helping with the cattle work.
On the second stand I parked my truck in a dry creek bed to hide it, the creek bed is about 5 ft deep so it hides my truck pretty good.
I walked up the creek bed about 200 yards and then got out of the creek bed to make my calling stand. It is real flat open country with no cover, just some short dry grass.
I set my CS-24 and SP-55 speaker about 60 yards out in front of me and layed down in the prone position with my 22-250 with a swivel bi-pod on it.
I started out with DSG Cottontail and after about 4 minutes of volume 30 I cranked it up to volume 40.
At about the 10 minute mark I saw a coyote off to my right heading to the down wind side of me and my caller. It was about 300 yards away and traveling at a slow steady pace to get behind me. I move my rifle to the right real slowly to get on the coyote.
The coyote was getting into good rifle range and I got my rifle where I needed it. When the coyote was right at 120 yards away I muted the CS-24 and the coyote stopped. The Barnes 55 gr MPG bullet dropped the coyote straight down.
When I went out to get the coyote to bring it over to my CS-24 I was shocked to see how big this coyote was and it was HEAVY. I don't know what it weighed but it was the heaviest coyote I have got in a long time.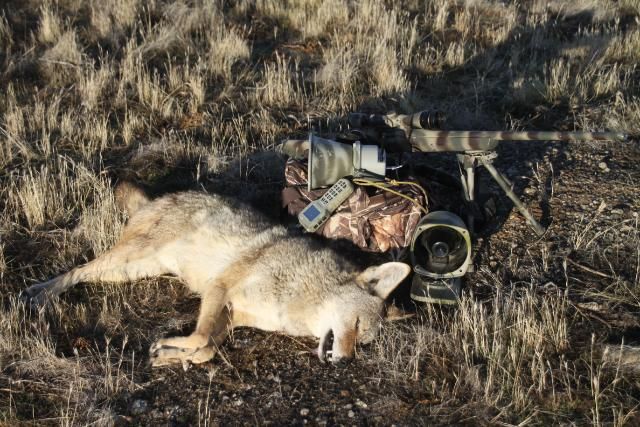 I did 3 more stands after we got done with the cattle work but they were all blank stands.
It was another great day!