This last Monday through Thursday I learned just how tough it can be to get the video needed to make a 30 minute long coyote calling TV show.
We ended up getting seven coyote kills on video and some messed up oppurtunities on video too. We had a full moon, rain and high winds that did not help us any during the 3-1/2 days that we hunted. Al and Garvin both made very impressive shots with Hornady Superformance Lead Free 35 gr NTX bullets. Al was using a 223 Rem and Garvin was using a 22-250. I think even Frank would be impressed with the speed of these Hornady NTX 35 gr Superformance loads.
The 223 Rem loads are right at 4000 fps and the 22-250 are around 4400 fps.
Hopefully in a year or so the footage we got will be on a Foxpro Furtakers TV.
Al Morris and Garvin Young with Foxpro were the two hunters. Al and Garvin as a team have won the Coyote Hunting World Champioship three times so they do know what they are doing when it comes to coyote calling. It was pretty cool to watch them make calling stands. Quite often without saying a word to each other they would split up and pick their spots to sit down and get ready to start calling. They both knew where each other was at and Greg the camera man was right with one of them.
Al has also won the Elk Calling Championship and we got to see his elk calling skill when we spotted a Tule Elk bull laying down about 250 yards away. With five of us peeking over the top of a big bare hill with no cover on it Al Morris started calling to this bull elk with one of Foxpro's elk calls. Al was making a bunch of different cow and calf elk sounds and got the bull elk to stand up.
Greg got the video camera going as Al was working this bull into a frenzy with a bunch of different cow and calf elk sounds. Every once in a while Al would put out a sound that the Tule Elk bull really liked and after about 5 minutes of getting the bull worked up the bull started up the hill towards us. The bull had to cross a fence and got within about 25 yards of us. It was pretty cool to see and I am pretty sure this elk footage will make the TV show. We were very surprised that Al was able to call this bull elk in since the elk have been done breeding for over a month.
This bull elk was laying down about 30 yards down the hill to the left when we first saw it. When Al got this bull excited it ran up to this point and looked around for a few minutes.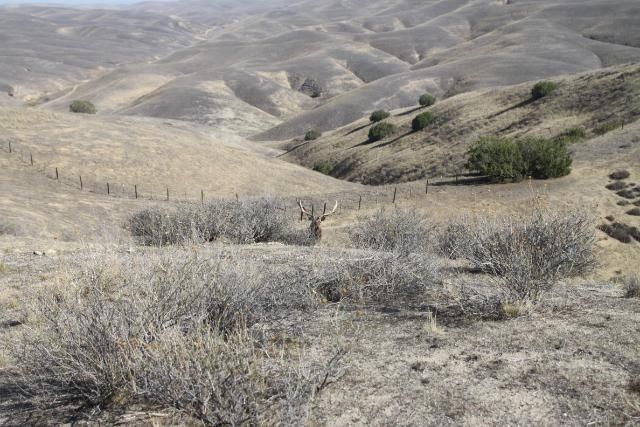 In this picture you can see the fence the bull crossed. When we originally spotted the bull elk it was laying down below the junipers on the hillside on the other side of the fence.
This is where the bull elk stopped and stared at us for quite a while. The bull didn't know what the five of us were but he sure liked the sounds that Al was making the whole time all of this was going on.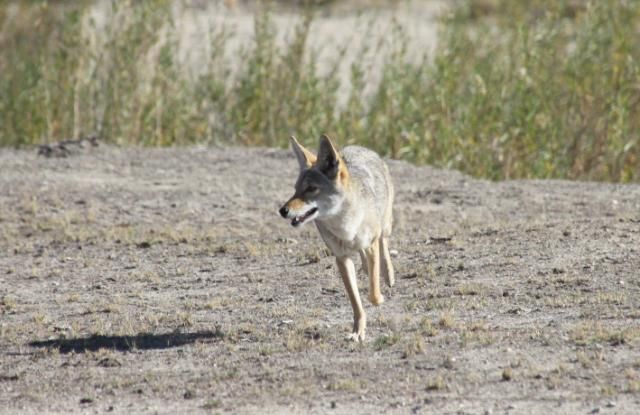 Believe it or not this coyote got away.
Here is Al, Garvin and the camera man Greg at work. Nobody should have to work under these conditions.
On Wednesday the wind was brutal and we started getting rained on so we drove about 35 miles West to try plan "B" area. Plan "B" area got us two coyotes so that made our day.
It was fun to go along and learn some about how hunting shows are made but I don't think I would want to do it very often. It puts some pressure on everyone and it makes you have to be very selective on where you make the calling stands.