On the way to my first stand today at 11:00 am I saw a coyote cross the ranch road in front of me about 100 yards away. I got out of my truck and layed down in the prone position with my 22-250 with a Harris Swivel Bi-pod on it. This coyote was not in a hurry but he never stopped so I didn't shoot at it running. It was going over a ridge right towards where I was going to make my first stand.
I decided to save that spot and make it my 3rd or 4th stand since I just pushed that coyote into that area.
So the first stand I made was in a spot that I have got five coyotes at in the last two years. It is on top of a mountain range and no matter which way the wind is blowing I can make some stands.
I was leaning up against an oak tree in the shade. I had my Foxpro CS-24 out in front of me about 15 yards away. I started out with Bay Bee Cottontail. About 5 minutes into Bay Bee Cottontail on volume 40 I see a coyote running down the ridge, towards me on my left. So I started taking pictures of the coyote.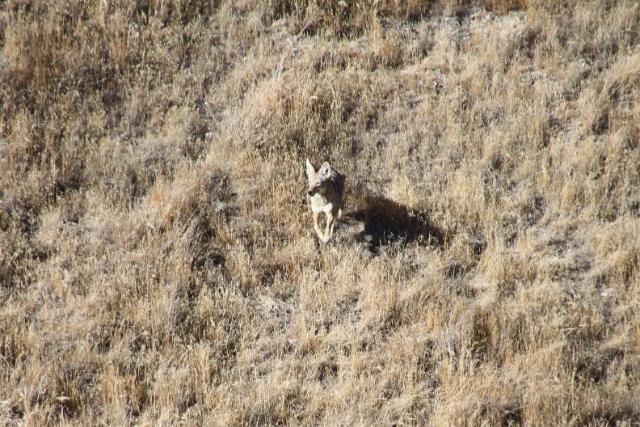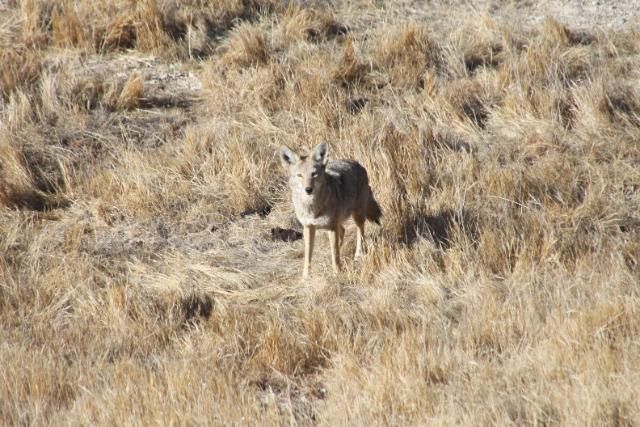 The coyote stopped just out of shotgun range. In the last picture he has stopped and just a few seconds later he took off when I tried to set down my shotgun and pick up my rifle. So this coyote got away.
I stayed and kept calling on this stand for about 10 more minutes. I gave up on this stand and picked up all of my stuff and got ready to climb about 200 yards up to the top of the mountain to go make another stand.
The whole time I was picking up my Foxpro, guns and camera I was on the down hill side of a big oak tree. When I started to head up the hill out form underneath the oak tree I spotted a coyote standing on the hill above me about 120 yards away. The coyote was looking right at me so I crouched down and thought this coyote will never stand there long enough for me to get ready to shoot my rifle.
I had my camera around my neck under my camo coveralls, my Foxpro in a camo carry bag around my neck over my shoulder and my rifle around my neck over my other shoulder. I am on a very steep mountain glancing up at this coyote as I take the rifle off my shoulder and my Foxpro off my other shoulder. I can't believe the coyote is still there watching me.
So I adjusted my bi-pod and went to lay down to shoot the coyote and realized I had to take my camera out of my coveralls so I could lay down to make the shot. So I unzip my coveralls and lay my camera down beside me. I couldn't believe the coyote is still there.
The coyote was standing broadside and the Barnes 55 gr MPG bullet out of my 22-250 dropped the coyote in it's tracks.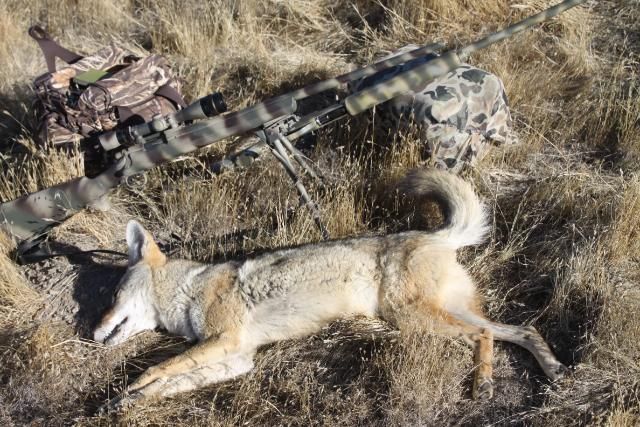 The next stand was a blank so I headed back down the mountain in my truck to call over into the country I saw the first coyote run over into.
I had my shotgun and rifle on this stand. I had my Foxpro about 20 yards in front of me and I set up my Contour Roam camera next to the Foxpro. I started out with Prairie Dog Distress on full volume. I had some big open ridges out in front of me so I thought I would see a coyote comming in from a long ways away.
After just a few minutes a big male coyote came around the hill from my left and ran right out in front of my caller and Contour Roam video camera and stopped about 15 yards in front of the caller. So I shot it with my shotgun. Then I saw two more coyotes about 200 yards down the ridge running away from me about as fast as they could run.
This is the big male coyote I got with the shotgun. I didn't have my Contour video camera high enough off the ground on the steep hill so I didn't get a video of this coyote that got shot right in front of the caller.
I did two more stands and saw 3 more coyotes on my way home but didn't get any shots at any of them.
It was a good day, the second day of my vacation. I only have 37 more days left. I have to go back to work on Monday 12/31/12.