After Alyssa shot her first coyote a few weeks back, she's been wanting to get back after it. Since bobcat season is in full swing, we stopped by Walmart and picked her up her first bobcat tag. We headed out early this morning and started chasing cottontails. It didn't take her long to suggest we make some stands.
The first one was a blank, and after filling the canyon with screaming death without any luck, we headed back to the truck. Alyssa suggested that we head over and try the same stand where she shot her very first coyote. We hiked in and set up. She was covering the right side with the .204 and I covered the left side with the 22-250.
About four minutes after I started calling we had a hard charger come in from straight out and suddenly stop out at about 100 yards. For some reason he zeroed in on Alyssa. He stared at her for a full minute. I told her not to move. She didn't see the coyote and of the two of us, I had the better angle. After a bit, he decided that things were good and he started to trot in. I dropped him at about 90 yards.
After another blank stand, some lunch and a little more bunny chasing, we drove in to investigate a small spring. On the way in we kicked up a bedded coyote that trotted into a nearby canyon that we've called before. We waited a few minutes and then snuck in and set up. I was convinced we could call that animal in.
I put the Foxpro about forty yards below us and started calling. Within a few minutes the coyote came running in and dropped from sight below the caller. He popped up on our side of the drainage and came right up to the caller. He stuck his nose in the cone speaker and then turned to leave. He wasn't in a hurry, but he was leaving. I let out a growl and he stopped broadside. Alyssa was on him, but there was a bush in the way. I told her to give it a try. She did and she missed. The coyote took off and stopped about 150 yards out. Silly coyote. I dropped him there.
Since it as early in the stand, we kept calling. After a few minutes I realized that I hadn't seen Alyssa eject her casing from the first shot. I leaned over and asked her. She couldn't remember and as we were discussing, she points to the right excitedly and whispers "coyote". I look over and see a big bobcat trotting down the dry creek bed. I tell her it's a cat and to load up. She ejects the empty and is ready to go. The cat crosses the creek fast and we lose sight of it below us. As fast as he was coming, we both thought he would pop right up below us. After a full minute, I finally spot him creeping on his belly, feet from the caller. I ask Alyssa if she can see him. She does, but it looks like she has no shot. I have the cat in the scope, but I'm hoping I can hold off until she can get a clear view. I tell her to take the shot if she can and she fires. I see a puff of fur and the cat disappears. We run down there and find a huge dead cat with a shot to the spine. I'm speechless. Alyssa is beyond excited and I was very glad we grabbed her a tag...a tag she only had for nineteen hours before she filled it. Since we already have a full cat mount, she's thinking of getting a rug made of this one. Another great day out with Alyssa.
My hunting partner with her first bobcat ever, and a nice one.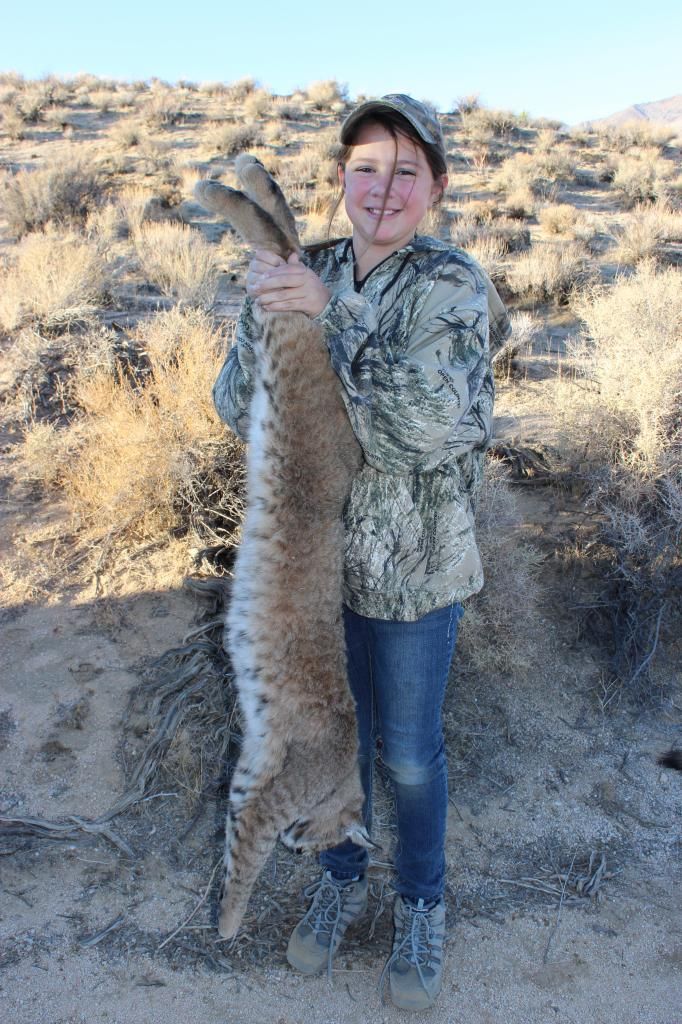 Me and Alyssa after four stands and the days haul.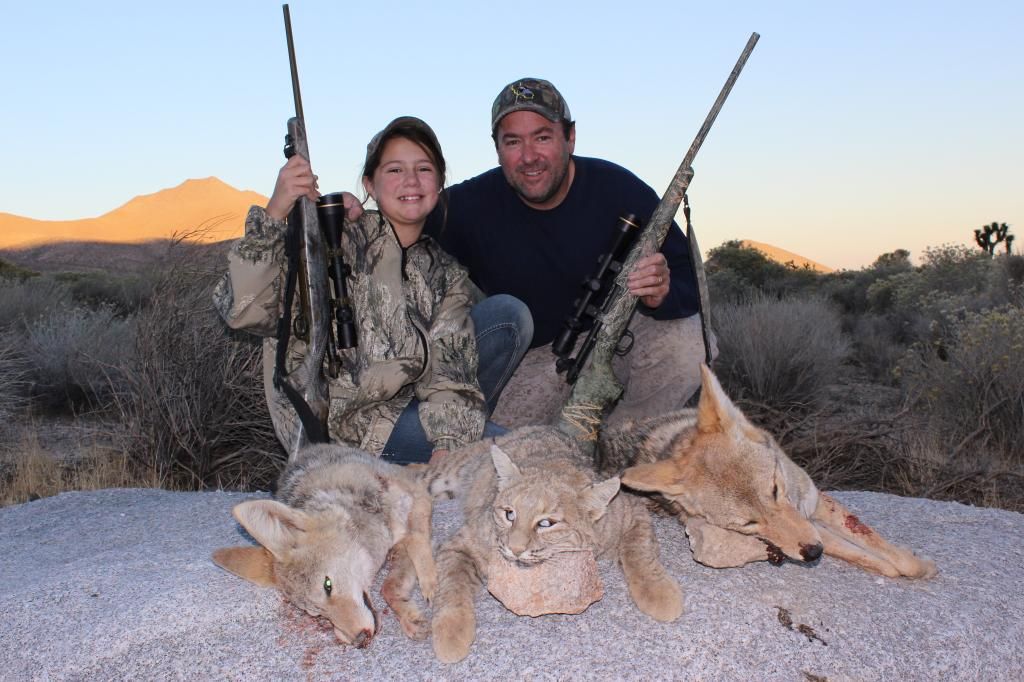 Our first bobcat while hunting together. Definitely a wall hanger.