I left the house this morning at 8:00 am to go do some coyote calling. It was low overcast at my house, when I got to the ranch I was going to call coyotes on it was foggy.
I did 3 stands on the North side of the mountains in the fog with my shotgun but didn't get any takers.
So I went to the other side of the mountains and I could see much farther over on the South side of the mountains.
I did a rifle stand and had a good sized coyote come down the hills from my left and stop about 150 yards away. I was laying prone with my bi-pod on my 243 Win. I missed this coyote. I was excited and used my shotgun trigger pull.
On the next stand I set up in some low brush with my shotgun with my Fury about 15 yards in front of me. After playing Prairie Dog Distress for about 6 or 7 minutes I had a young coyote run in from behind me and to my left. He turned around and was running out the direction he came in from. I shot him heading straight away when he went through a small opening in the brush.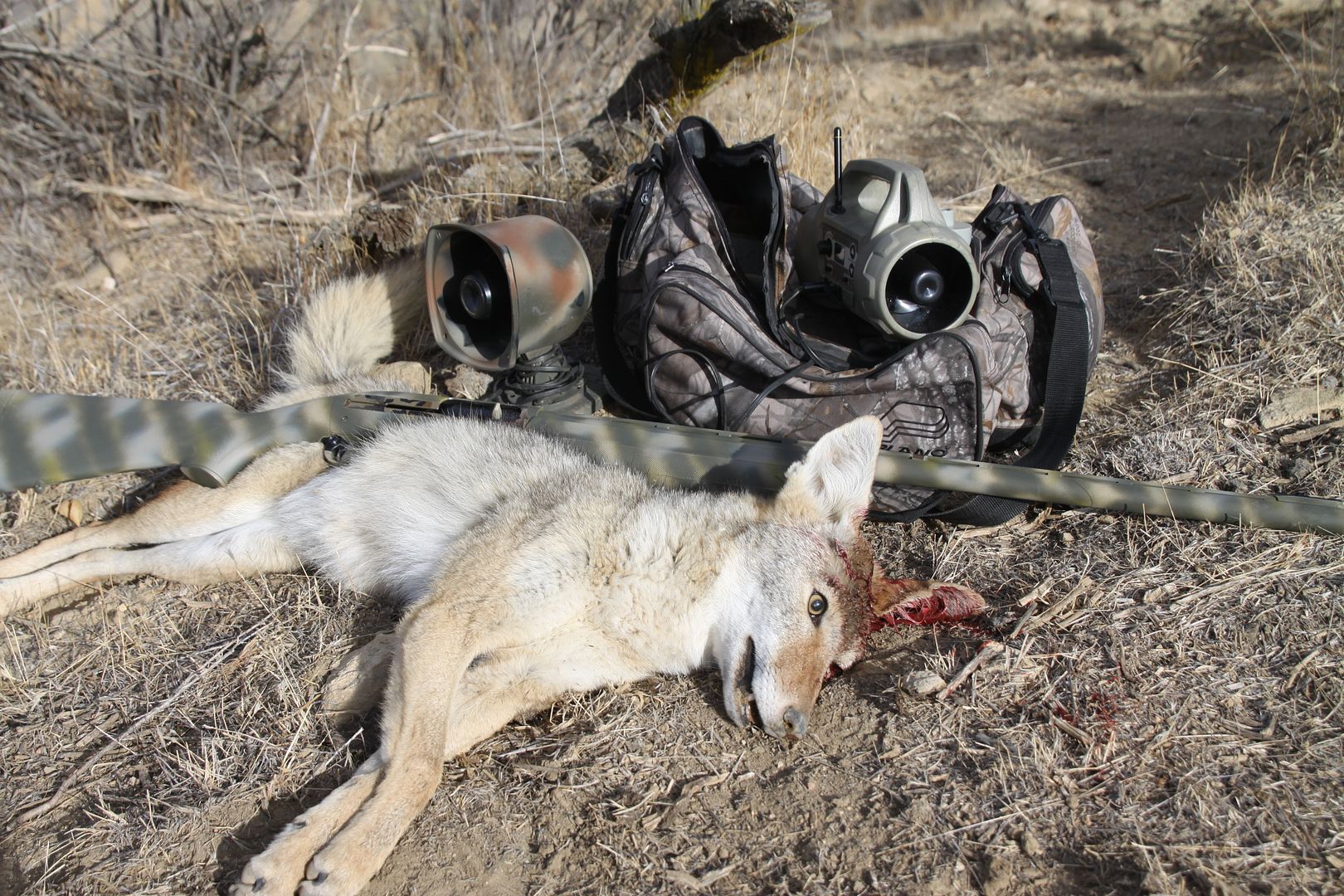 This small coyote was about 30 yards away when I shot it going straight away with some Federal Heavyweight #2 shot. Three of the #2 HW shot came out the face and forhead of this coyote.
On the next stand I set up with my rifle with my caller about 40 yards from me. Since I was going to be laying prone on a bare hill side with no cover, I left my camera right next to my camo carry bag and my caller.
After about 5 minutes of Jack Rabbit Distress I saw a coyote heading straight in to the Fury. The coyote wouldn't stop so I shot him with my 243 Win when he was about 20 yards from the caller.
I stayed down and kept the Fury playing and a few minutes later I see what I thought was another coyote heading up the hill about 300 yards away. I moved my rifle and looked through the scope and saw that it was a huge bobcat. As I was watching this big bobcat head up the wide open hill side with no cover on it, I was realizing how stupid it was for me to leave my camera next to the caller.
The bobcat came up to where it got wind of the dead coyote that I had just shot a few minutes before. As I watched the bobcat head off to my left I switched sounds to Coyote Pup Screams just to see what the bobcat would do.
It looked to me like the bobcat was not liking Coyote Pup Screams because it took off running down the hill to my left.
When I looked back over towards the Fury here comes another coyote heading towards the Fury that is still playing Coyote Pup Screams. I lowered the volume on the Fury and the coyote stopped for just a few seconds at about 100 yards away. This coyote was not moving fast and stopped again. I jerked the trigger again and missed this coyote.
I am pretty sure my old age is starting to get to me!
The above picture is the first coyote that came in on that stand. Even though I blew a easy shot and left my camera next to my caller it was a pretty cool stand.