Just curious, do many of you guys and gals night hunt? Since I've been a member here (which is awhile) I haven't seen too much here in regard to night hunting...if any.
Through the years I'd almost always plan my hunts around the new moon, my favorite time to hunt at night. Partial moonlit nights can be okay as well but I prefer dark. Always been that way. When you drive over 500 miles round trip it's nice to be able to get in a lot of hunting. Hunting at night gives you a lot more hunting time. Night hunting is a different deal than daytime, in some cases it's tougher and in others it's easier. Since you usually hunt right from the truck you can make more stands then you would in the day. Eyes stand out, so just about anything you call you are going to see. Most predators hunt at night so quite often you'll see more stuff at night. Also if you're after Bobcats it's usually more productive since cats are on the move at night...and they're much easier to spot since their big ol eyes give them away every time. Watching a set of eyes come in at night is really something. Obviously it has potential to be a bit more dangerous as well. Got to make sure of your surroundings, where your gun is pointed and always i.d. your target.
The main tool for night hunting is the light. It's what you are hunting with. Thru the years I've used most of the different brands. Some worked great and gave years of great service while others were a complete waste of money. There was usually something I didn't like with all of them and wished they would be better in a certain area. So...I built my own. It's based on a design that's been used by various clubs in Calif. for years. I've never personally seen one, but have read about them.
It utilizes a low amperage flood light that throws a nice wide and even soft light for picking up eyes. It's also easy on the battery. On a dark night you can pick up eyes approx 250-300 yards out, maybe a bit further? Flip the switch and it turns on the tight focused burn light, usually a 50 - 100 watt spot. You can see and i.d. any animal in realistic range at night with this light. I prefer this design over the flipper style light because of one reason...the flood light. It covers a lot of ground with a nice soft light. A regular spotlight doesn't do that even with it on a dimmer. I like looking for eyes with as little light as I can get away with. With a bright light you get a lot of bounce back from nearby trees, bushes and rocks.
Here's a photo of the light I built. These are pics of the prototype as I was building it.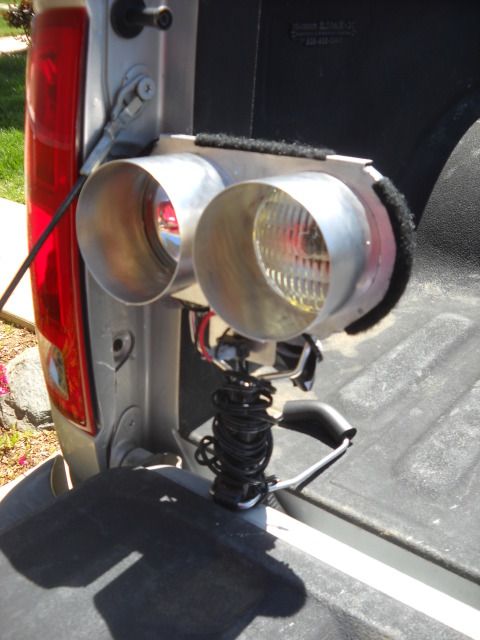 I wanted to keep the light lightweight. A heavy light gets tiring real quick. The housing was made from thin gauge aircraft aluminum. It holds a couple PAR36 12v bulbs. The handle I used is from an old 5 dollar wrist rocket. I've slightly changed the design to utilize a different handle that mount slightly different. The new handle can be bought for about 5 bucks. I'd say just by feel this light weighs pretty close to my Lightforce170 equipped with a rolled aluminum shroud.
It uses a 20a SPDT toggle switch I picked up from Radio Shack. The switch works out okay but I'd like to try a few others. It also uses a Radio Shack power cord.
The light utilizes PAR36 sealed 12v bulbs. These bulbs can be purchased online and are relatively inexpensive. Most bulbs I bought were right about 8-10 bucks.
A nice feature for Calif guys and some of the goofy laws they deal with, you can purchase a couple 6v PAR36 bulbs, a switch and be compliant. Again, bulbs are relatively inexpensive so there is a lot of adjustability available for little money.
One feature I wanted was to be able to quickly change bulbs or make repairs in the field with little effort. This allows a lot of adjustability. Say you are hunting a pretty bright 1/2 moon night and need more light to spot eyes. Or maybe a really dark night that requires very little light...or you just burn out a bulb. With this light it takes me maybe about a couple minutes to change one out if I need to. Pull back the velcro attached sheath, a few thumbscrews (I also swapped the light screws to thumb so no tools needed) swap bulb, attach sheath. done. For now it works but I'm in the stage of making an aluminum clamshell back in place of the vinyl. It will be easily removed as well by a few thumb screws or clips.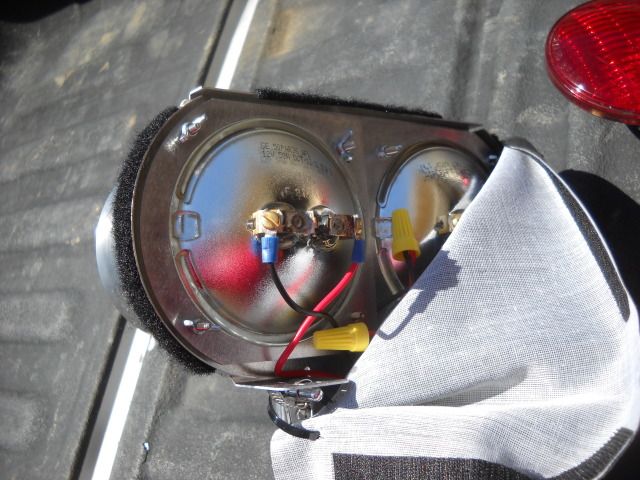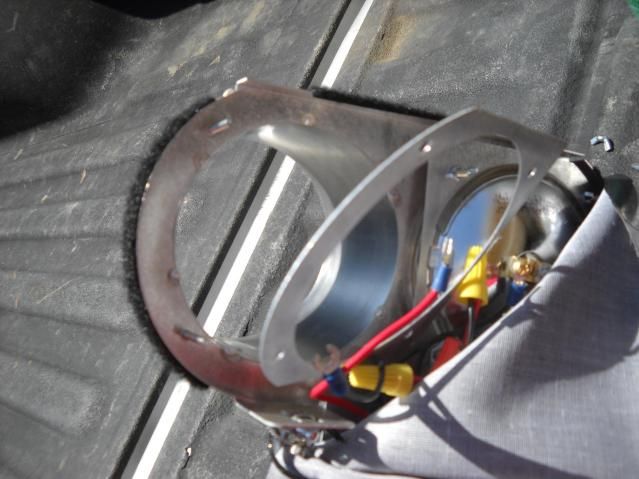 Another nice thing using sealed PAR36 "glass" bulbs is if you want to paint it red, go right ahead. If you want to remove the red or apply a new coat spray on some brake cleaner...comes right off and doesn't mar the glass...can't do that with most plastic spotlights. Once it's painted red it's not coming off. If you spray most spotlight plastic lens' (Lightforce, Qbeam) with brake cleaner or anything that will remove Dykem, it will destroy it.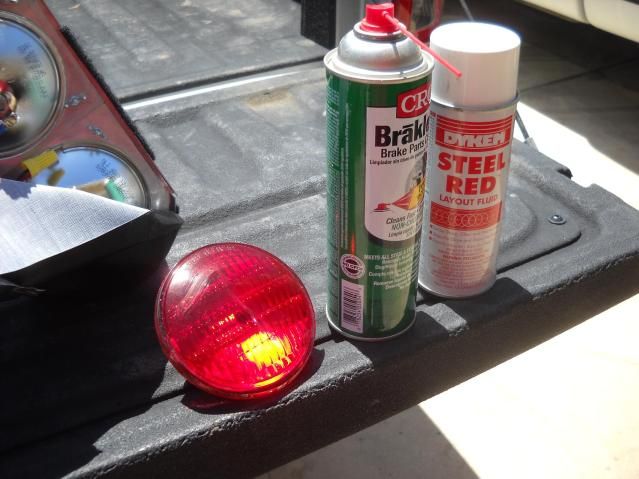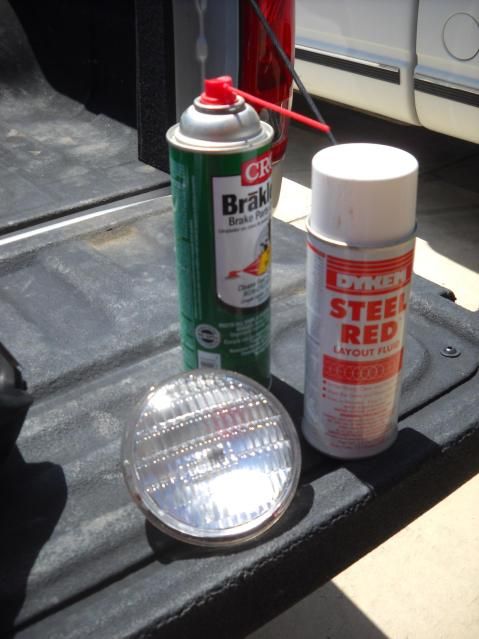 I own a couple Lightforce LF170's and a 240...really nice lights. A nice combo is a LF170 hooked to a dimmer but that's a pretty big investment as well.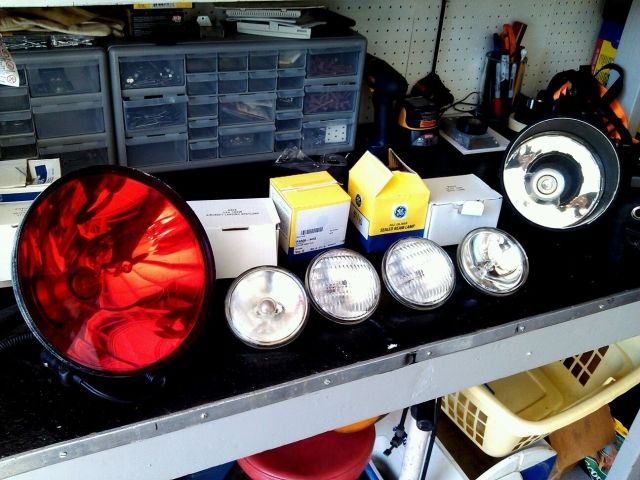 IMO, night hunting done correctly can be more productive than day hunting. In some respects it's easier since you are hunting from the vehicle or right next to the vehicle, so people with mobility issues can get in a lot more hunting. It's definitely better for bobcats and beside that it's just fun.