Update # 2 at bottom of page. Sophie's 3rd! I took a couple days to go to the hills to look for Coyotes. Before I left however,I stumbled across a load that shot very well especially when you throw in My shooting ability. This target was shot at 150 yds. As most of My Coyotes are 100 yds or so, I wanted to take advantage of the flatter trajectory with the 55's and sight in at that distance just incase I got a longer shot oppurtunity.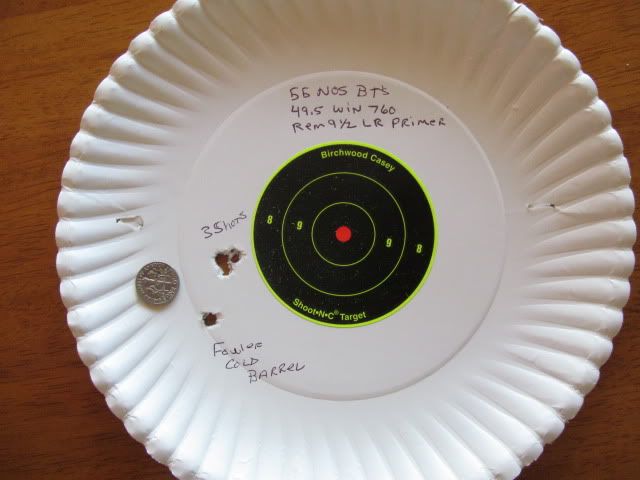 So with the rifle shooting good I decided to head to the Forest to look around. I took Sophie who is now about 7 monthes old in the hopes of letting her see a Coyote. We set up camp at about 4PM, and went and made a couple evening stands. She is fun to take cus even though She is a Mutt so to speak, she gets excited whenever I grab a rifle to go hunting. Here is a pic of the Camp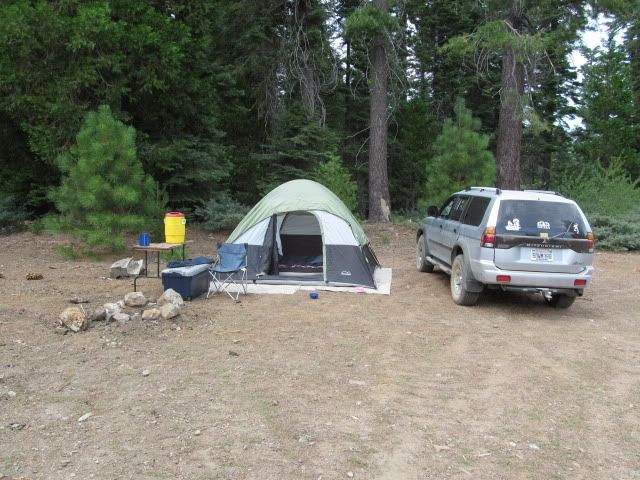 And of course Sophie had to be the first one to try it out! lol
...So we came back to camp ate some Gourmet Hot links and Chili and got ready to try it again in the morning. The first 2 stands came up empty,but at about 9:00am I found a great overlook that had some clearing as well as trees. I started with a jack distress sound, and to My suprise I see one coming out of the forest at about 300 yds away. Being up High I had a pretty good view, but after a few minutes I could not find the Coyote. All of the sudden Sophie let out some real soft growls, and a whoof. Here was the Coyote coming straight at Me! She spotted him! I was like a Proud Father! Anyway The coyote stopped directly behind 2 stumps and was looking our direction. I put the crosshairs on its chest and The Winny and the 55 grn'r did the rest. Here is the Coyote and the Winny..
He looked like an old scrapper.
I didnt take any full shots of the Coyote cus that .243 really messed him up!
Here you can see the pic back from My uphill location, and see the Coyote on the stump.
There were no more takers, and I saw next to nothing for sign either. But getting Sophie to get Her first up close look at a Coyote made the trip for Me! I couldnt get a pic with Her and the Coyote, She got close once, woofed at it and didnt want anything else to do with it! LOL
But it was a great couple days with Sophie The Coyote Dog. I hope she doesent lose Her desire to hunt. Thanks for looking!