I will begin this post with an advanced notice: If you have thin skin, are lazy, or only think that rabbits come out in the mornings and evenings, I suggest you move on and skip this post. If you want to hear about what happens with a bit of effort and some wisdom, read on to this long and entertaining (to me) post.
I have not been on much in the last week for a few reasons. One involved more senseless activity by others at the public range which made me want to disclaim myself from even being a gun owner. The other was when I asked the nephew if he wanted to go hunting next weekend (this last weekend) and he responded by telling me that it isn't it too hot to go out and that we get there too late because rabbits are pretty much only out in the morning and evening. My jaw dropped and I almost curled up into the fetal position and cried. How could someone from my bloodline say something so horrible?! When I asked where he got that from, he said from some posts he read on here with me. He/We were on restriction until I got this cleared up. No CPC for him until he had a chance to learn a valuable lesson, and since he was here all week, I could not really be on here without him being present. Therefore the absence. Now to the hunt/lesson
:
The day began with us leaving the one and only day off for the both of us (my buddy and I) at 5:00am to meet my hunting partner and his prospect around 7ish. By the time we say hello, eat, and drop off the car, we don't even hit dirt until almost 9:00 and already hitting triple digit temps. It didn't help that his prospect left his $800 teeth retainer wrapped in a napkin that blew out of the bed of my truck and we had to go back and try to find it with no success
. We start seeing bunnies almost immediately. Some are running into the next county and some not quite so bad. The two prospects are still too young and foolish to listen to us, so we let them wander for a bit while we disappear and take some rabbits
. The first one of the day was taken while running with my trusted .44. He was not DRT, but grazed pretty good and had to be put down with my high dollar, priceless H&R single shot shotgun I was carrying as a backup. He had ticks the size of gumballs on him!
. Sorry, my buddy took those pics and I have not gotten them yet.
Well, needless to say, being down a couple rabbits to the old guys before they even managed to get a shot off sure put a whole lot more bounce to their step and the fur really started to fly. The prospects were working together and alone to bag up a boat load of rabbits. We turned them loose and let them have the time of their lives. At least it sure seemed that way to us. You look at their smile and be the judge.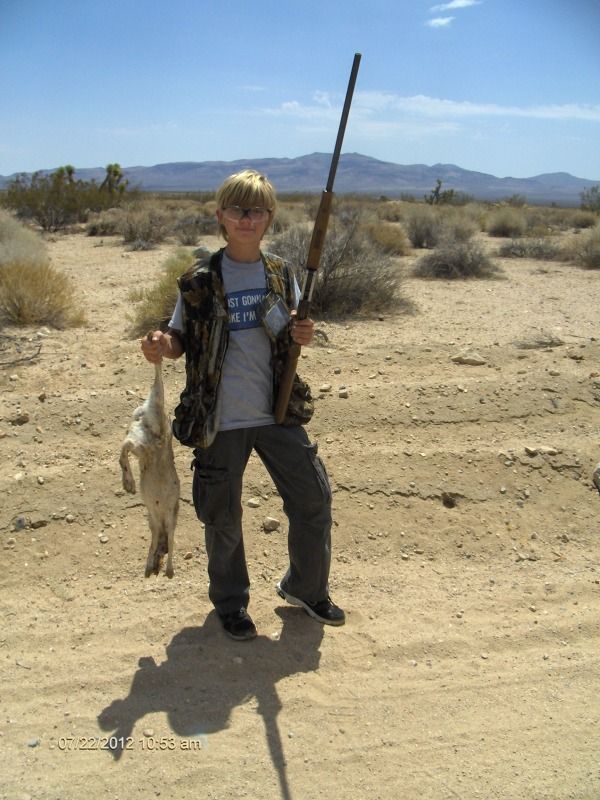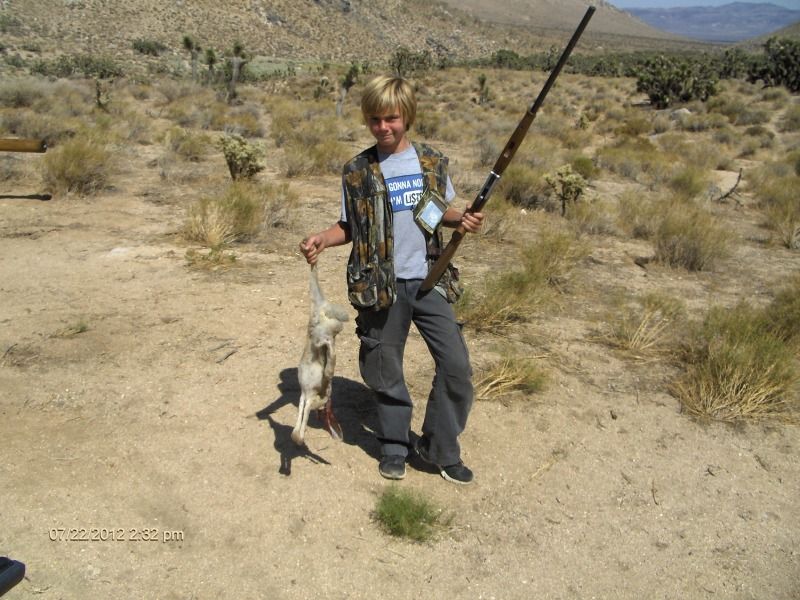 During the afternoon my buddy takes a few quick shots at a rabbit quite a ways away. After dropping it, we decided to laser it just for the heck of it. 63 yards with a pistol, and not just any pistol, his 3" Glock 27 he bought solely for his CCW!!! And if that wasn't bad enough, less than two minutes later we walk less than a hundred yards away and he drops another one on a full blown run with one single solitary shot through the heart at 43 yards!!!
What can you do but buy him a beer at that point? I hate him! Naw, I wouldn't trade him for the world, after all he is one of the only people I know that does not mind walking the desert all day in 105 degree temps. You can't buy, trade, borrow or teach that kind of heart
.
Not long after that I take the first cottontail of the day, which is of very little bragging rights after his two shots
. I will start by saying that it was the only gun I had on me
. If a .22 is a good rabbit gun, then a .44 must be twice as good a rabbit gun, right? Wrong. But it does make gutting them a walk in the park. Skinned, gutted, and cleaned in less than two minutes, but sadly only three edible legs.
Well it didn't take long before my prospect gets tired of lagging, so he wanders off by himself while the three of us are by the truck cleaning and catching our breath. We hear one shot and one shot only. That's usually a good sign. Soon he comes walking back with a cottontail and says "Clean this one pilgrim while I fetch you another one". Cocky little SOB.
It's approaching 500 by now so we decide we better start heading out. I know, at prime time right? Yeah, I guess the almost 3 dozen rabbits we bagged was going to have to suffice! The hardest part was that my damn prospect still wanted to keep walking the fields after 7 straight hours of already being out there. This kid does not quit.You would have thought it was 65 degrees and not 105 the way he carried on. He about killed this old guy. But while on the way out he sees one run near the dirt road and begs to go get it. What can you do? So I let him. He no sooner hits it and walks back to the truck when everybody's (but me) "dreaded green truck" rolls up. Yep, DFG. I walk over to it, say "Good evening sir. I take it you are going to want to see a few pieces of paper from us, right?". He just smiles and says yes. Now I don't know how many remember the post I put up last year about the terrific DFG Officer that checked us the weekend after my nephew got his first hunting license. This was the same gentleman. If he isn't the nicest Officer in that uniform, he has to be in the top two. He remembered us, well, actually as he put it "Yeah, I thought I recognized the hat". I get that a lot. We show him everything and begin talking for another hour or so. But here is the real kicker. About twenty minutes into talking with him, my prospect (the nephew) comes up to and politely says to me "There's a rabbit across the road over there in a bush taunting me. What do I do?". My buddy and I give the kid that "you have got to be freakin kidding me, right" look. It must have been real obvious, because Officer Edwards looks at us, then at him, then at us again and replies "Hey, you guys are completely in order, you're not going to offend or bother me, let him take it if he wants". So he loads his shotgun, walks across the road and into the brush flushing it and hitting it with one shot. The Officer tells him good shot and his chest inflates like a balloon. I tell you, these Officers are just horrible aren't they? This picture was taken while my buddy was still talking to the Officer. You can see the look of concern and fear on the kid's face when DFG is around
.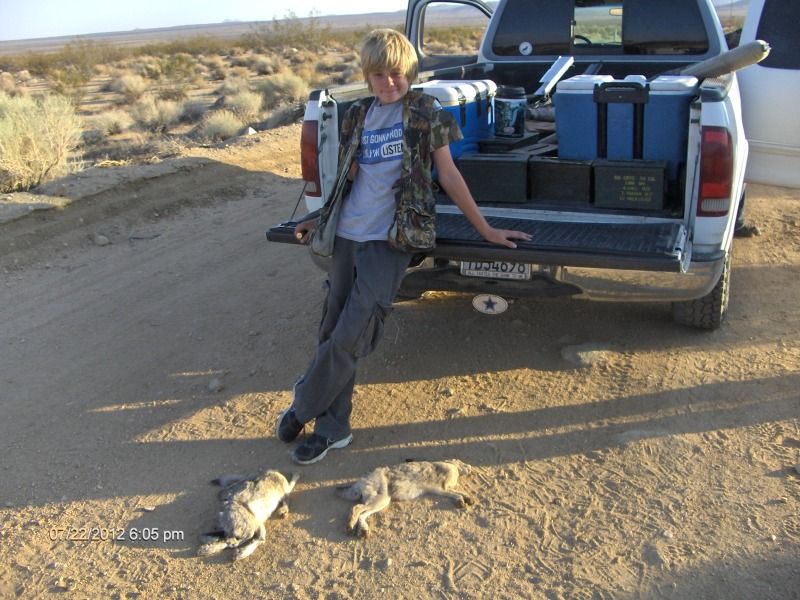 We left not long after that. But on the way out my buddy saw one last rabbit about 30 yards out. I had been catching flack all day for having an off day (for me) with the pistol. Running around in 105 degree weather and being horribly out of shape I'm sure had nothing to do with it. What, it's my story haha. So my buddy loads the .44 with one round and says "Show the kids how I know you can do it".
It was a fitting end to a great day that finally ended at 11:30pm when we got home. First and last rabbits were mine. The kids had just shy of two dozen rabbits between them. We had about three dozen bunnies total. My nephews second "run-in with the law" resulted in him hoping he gets to see the nice guy again every time he goes out there. And the very most important part of all: He learned that you will not die if you have to hunt and walk in weather that is not between 68 and 75 degrees. He also learned that with almost all these rabbits taken between 10:00am and 5:00pm that rabbits are out all day long if you are willing to hunt for them. And he also learned that I may actually know what I'm doing and not just blowing smoke up his
. Order has been returned to the family and he now knows that the best time to hunt anything is any time you're awake and the best day/weather to do it in is any and every day you are not working