One-liner for those who just want to know the bottom line (bagged 1 cottontail)
My buddy took his Hunter Education course in June and got his first hunting license right after the course. I wanted him to bring home something on his first trip so I planned on taking him out to a spot that my dad used to always take me since we nearly always came home with bunnies in the bag.
We hit the road around 3:50 AM and we started seeing bunnies on the road as we were driving to our spot around 5:30 AM. We spotted about 8 of them to our spot and I had to slow down a few times to keep from running over them. Most of the cottontails were small or small to medium sized. There was even one cottontail about the size of a closed fist.
We got to our destination around 6AM. While we packed a lot of gear, we left most of it at the car since it was about 55 degrees and we planned on stopping back at the car before 9AM. He was using a Remington 870 12 ga shotgun and I decided that the Ruger Bolt Action 77/22 (.22LR) would be best for me since we would mostly jump shoot rabbits and it would guarantee he would get most of the shots.
As we started hiking we saw a jackrabbit which didn't want to pose for a picture and definitely gone before we were gun ready. We didn't see another rabbit for a little more than a mile. Since it was sitting still and out of shotgun range we decided that it would be better if I took the shot. So I tried to steady myself and took a shot...it was a miss and the rabbit disappreared as if it had never existed. It was probably poor marksmanship as it was a standing shot with no support and I was swaying all over the place.
The second rabbit we came across was just in the corner of our eye and disappeared in thick bush on a hill no more than 20 yards from us. It must have sneaked out the back while we were trying to get into position since it never flushed.
The third and last rabbit we saw for the day was a 40 to 45 yard shot for my buddy. His first shot might have put 1 or 2 pellets into the rabbits rear which ticked it off and sent it into high gear. The second shot clearly broke a leg but didn't kill it and the third shot added a few more pellets into the rabbit's rear. I think my buddy had too much adrenaline because all three shots were in rapid succession of each other and he was loading more shells to blast it a few more times. Since someone was eventually going to eat this rabbit, I called out to him that he had gotten it but to let me put it out of it's misery so that we didn't have to spoon the meat into a bag. A quick shot and the business was done. In the excitement we forgot to take a picture. The rabbit also had a few fleas.
On our way back to the car, we heard some hawks. They were defintely making a lot of noise but they were fun to watch. The following picture is of one in a tree just off center to the upper right of the picture.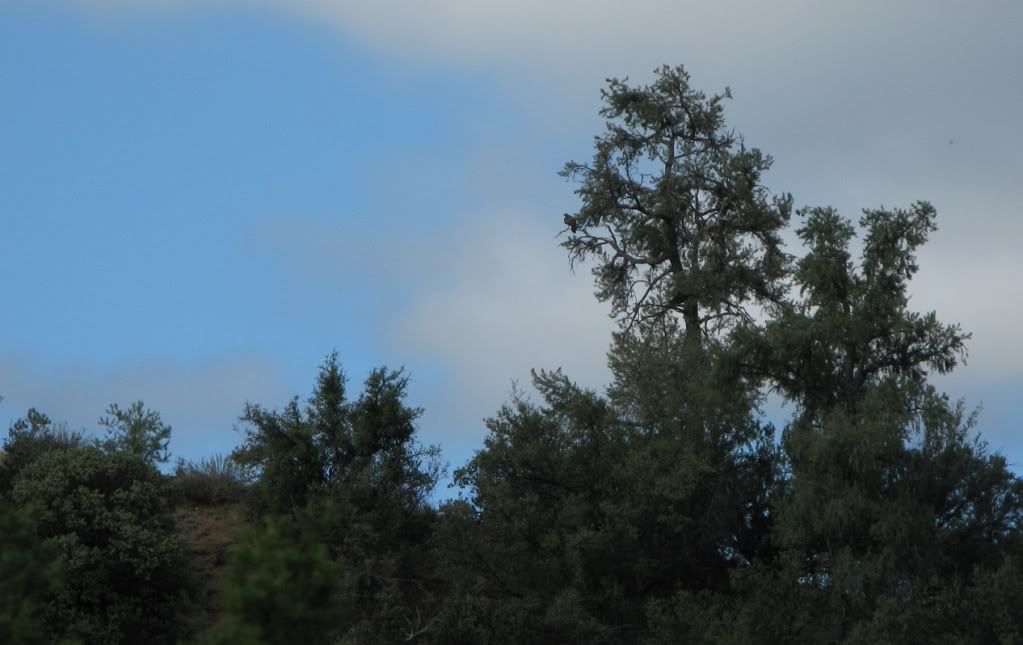 This is of a mating pair in flight
This is of the family together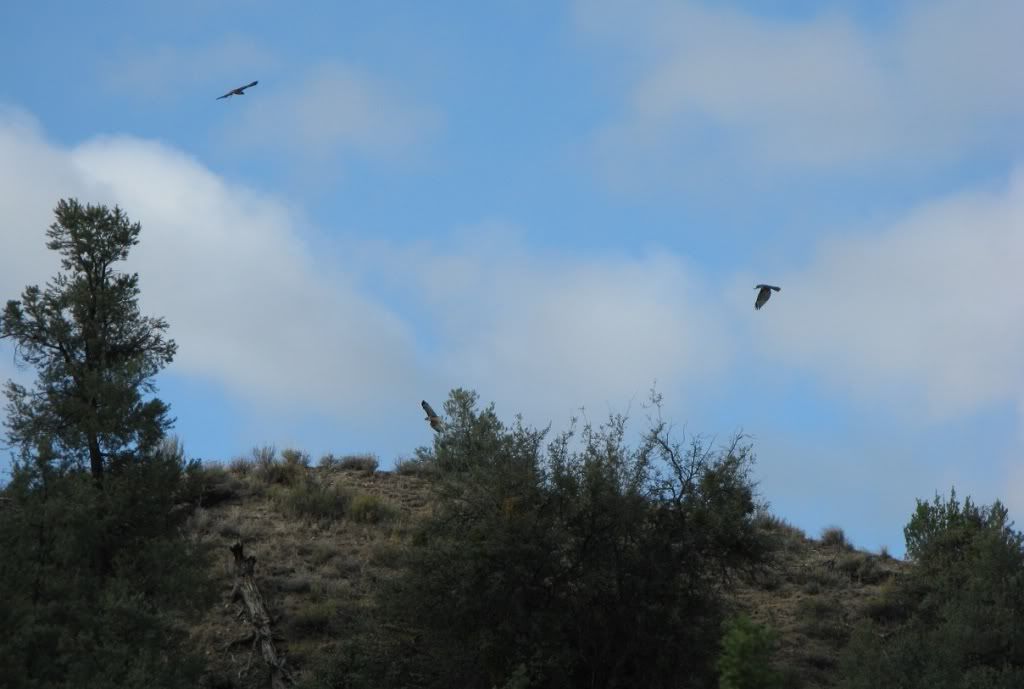 Another picture of the family
After 2.6 miles of hiking we got back to the car where we quickly field dressed the rabbit, followed by breakfast. We were ready for round 2 around 8:40 AM but we didn't see anymore rabbits though I did take pictures of various things I saw (further below). On our way back from round 2 we heard some quail and I wanted to go look for them but someone was target shooting and I wasn't sure where they were so we decided to stay out of the brush and reload on water. Round 3 was even less eventful than round 2 and warmer as well. We ended up hiking around 8 miles on mostly flat but sometimes hilly terrain.
This year seemed harder to hunt than previous years. The brush seemed dryer and the bunnies more scarce. If fact, on our way to our spot I mentioned to my buddy that usually there is more roadkill on the road. How was everone else's experience?
Not sure what kind of animal these bones belonged to
Saw a lot of lizards that sounded like rabbits running over leaves, especially when they would run...stop...look at you and do push ups.
A strange red fuzzy ant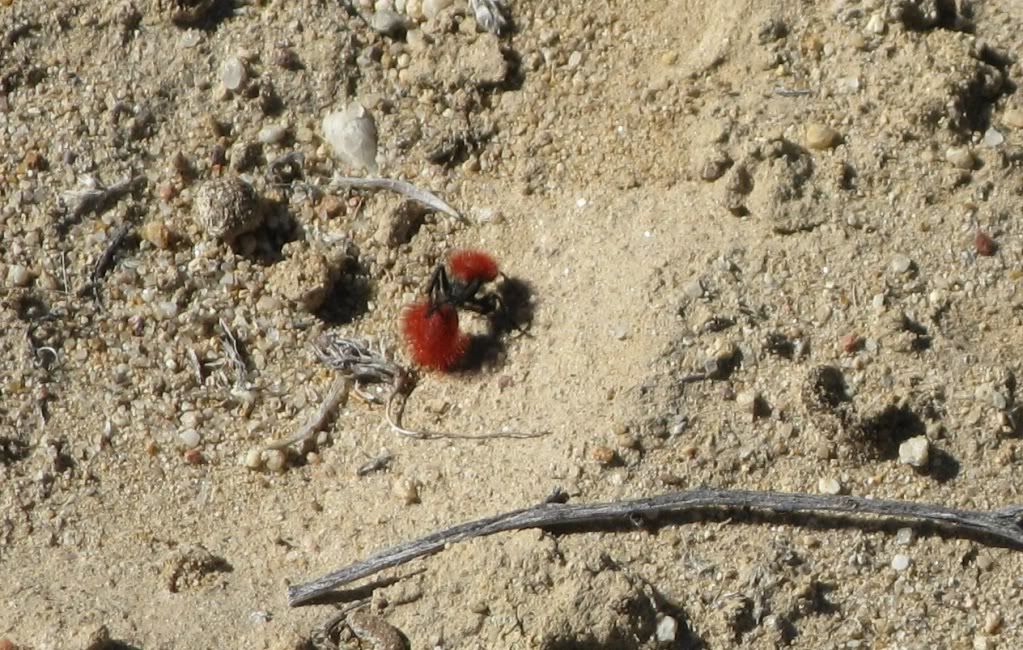 Some really scary wasp that was probably 2 inches in length and 3/4 inches wide (no object for size reference since there was no way in heck I was getting closer than 6X optical zoom on the camera)
We heard doves but had a hard time spotting them. Their "Coo coooo coo" started to sound more like a taunting "where am I" after a while.
Saw a cool looking horned toad