When we started calling coyotes with cassette callers in open country in the early 1980s we used bi-pods on our rifles and layed prone. This worked pretty good but we had quite a few hard charging coyotes get away from us after running right up to our cassette caller.
So we decided to have a shotgun shooter lay down 15 to 20 yards from the cassette caller. It did not take very long for me to figure out that my head even with a little brain in it got pretty heavy after just a few minutes of holding my head up so I could see.
So I made a camo pillow out of some firm packing foam to hold my head up so I could see better, be more comfortable and I could hold still for longer periods of time.
The pillow is not needed in areas that have some cover to help you hide but it will make it more comfortable to prop the pillow up against rocks or brush so you can lean in against the pillow. If you can get your profile lower by reclining against the pillow coyotes can't spot you as easy.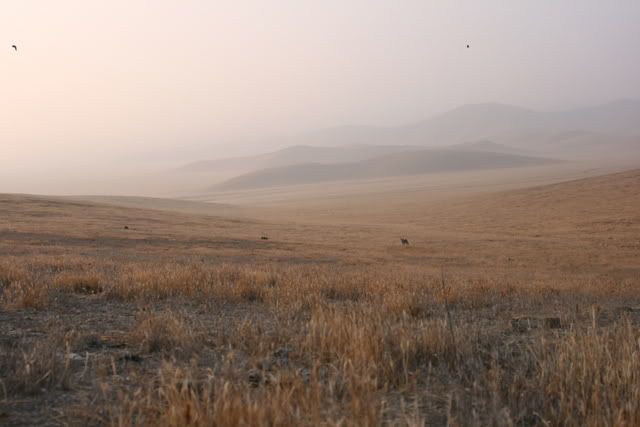 In the above picture you can see the shotgun shooters head sticking out above the grass on the left side of the picture. My Foxpro caller is in the middle and the coyote is on the right side of the picture.
In this picture you can see that the shotgun shooter has sat up and he is about to shoot the coyote at less than 30 yards away in wide open country. I was laying prone about 60 yards away with my camera and my 243 Win.
In wide open cattle country with no cover coyotes are not that concerned with objects that are less than 2 feet tall.
While laying down with a pillow under your head sometimes you can't see that far, or to your left or right real good. With a shotgun you don't need to see very far. Quite often while laying down 15 yards from my Foxpro I hear the coyotes feet hitting the ground before I see them. Also while laying down a 25 pound coyote looks much bigger at 15 yards away than they really are.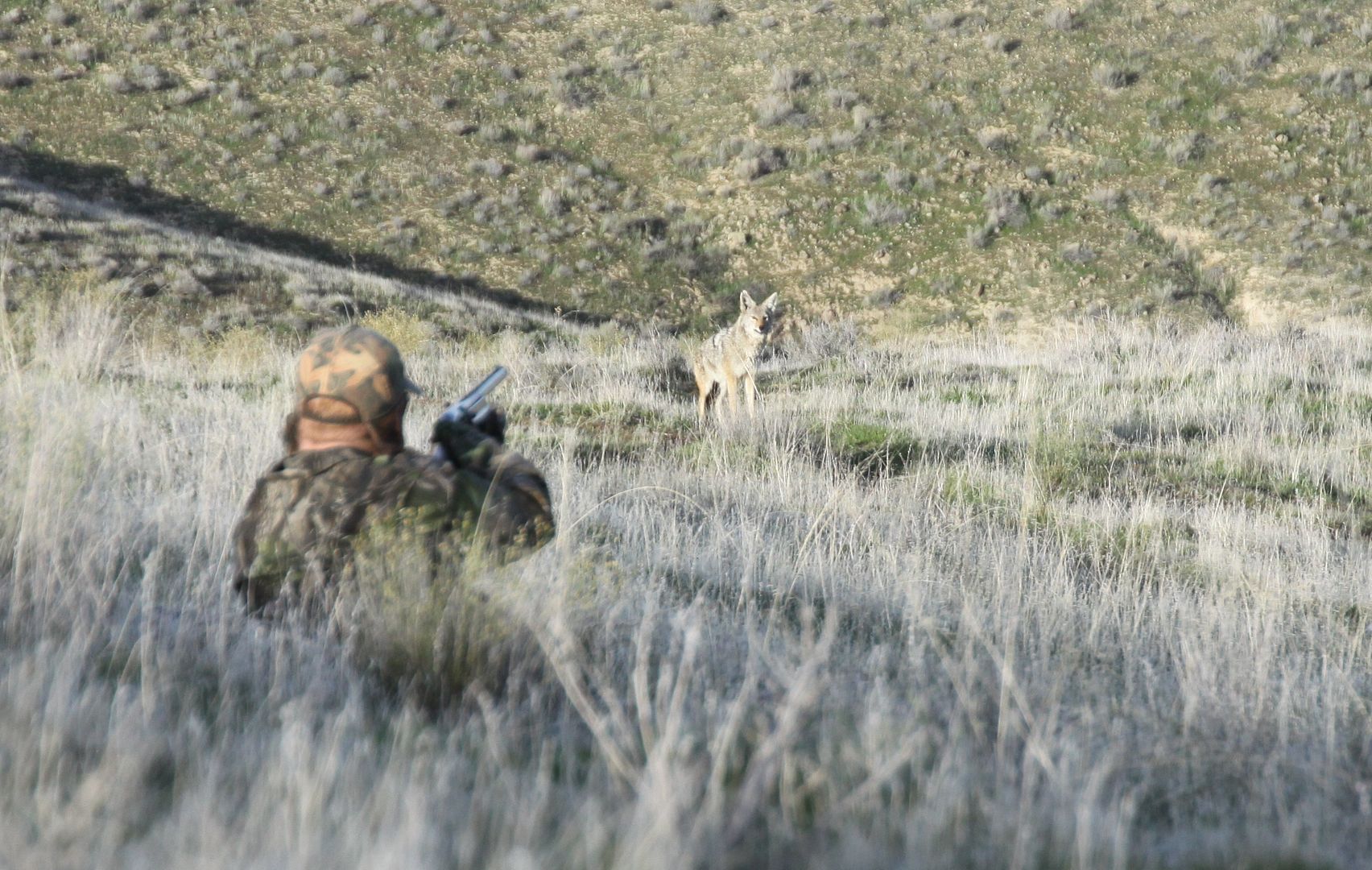 In this picture my son Wes has just sat up from laying down with his head on the pillow.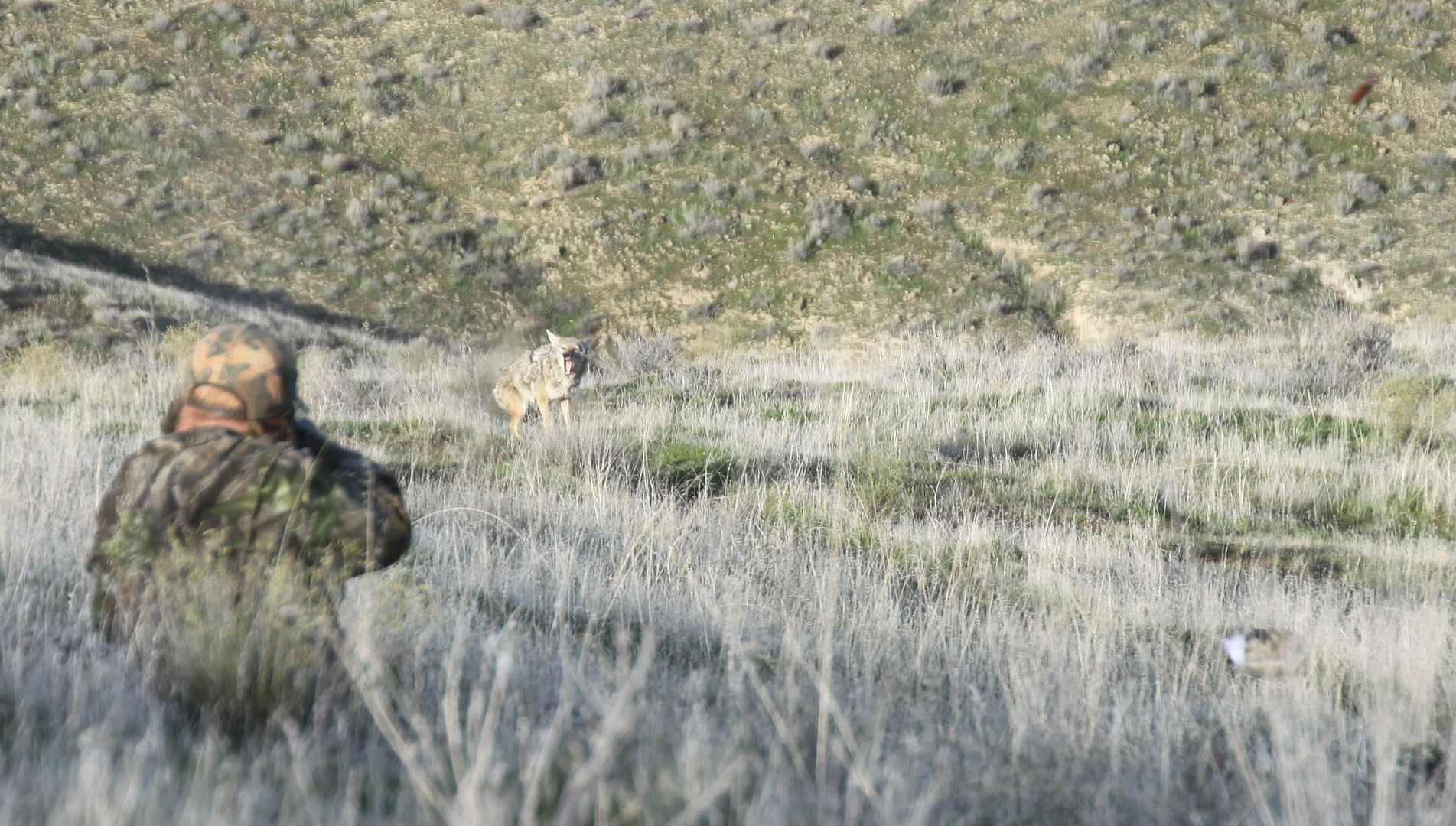 In this picture the shotgun pellets just reached the coyote.
In this picture I propped the pillow up against a rock and layed down with my Foxpro about 15 yards in front of me. I got to see this coyote run right up to me from about 400 yards away. I shot the coyote about 10 yards to the right of the caller and then set the coyote by the caller to take this picture. My friend jp7mag was laying prone on a little higher ground about 50 yards behind me with a bi-pod on his 243 Win.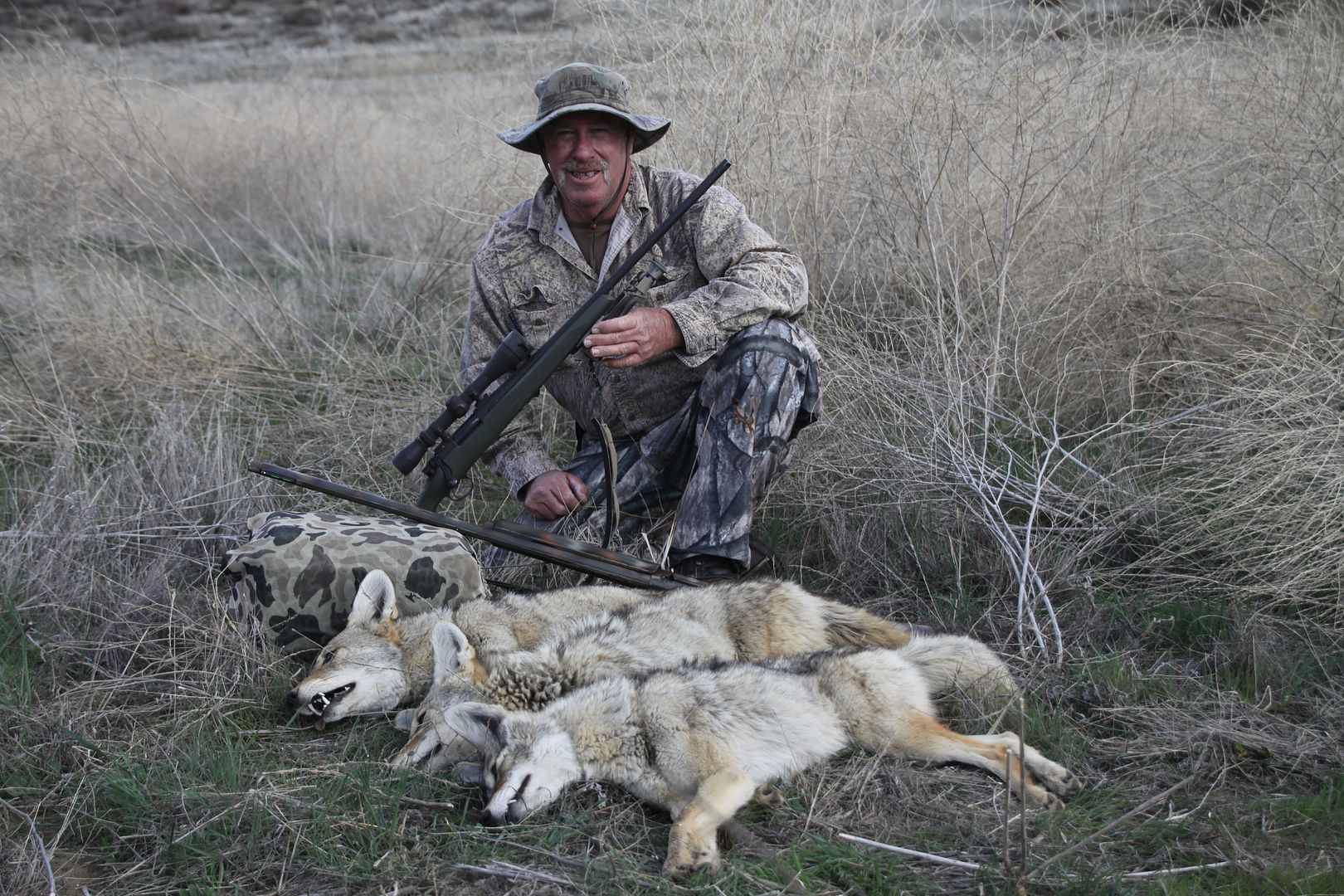 This is a picture of jp7mag with 3 coyotes that we got on one stand. jp7mag killed 2 coyotes laying prone with his 243 Win. I killed the other one with my shotgun laying down with a pillow about 15 yards from my Foxpro. I am pretty sure that if we had both used rifles on this stand we would of only got 2 coyotes not 3 coyotes.
In this picture the shotgun shooter is leaning against the pillow that is propped up against a bush. You can see the green Remington 12 ga hull in the air about 2 feet to the right of the shotgun shooter.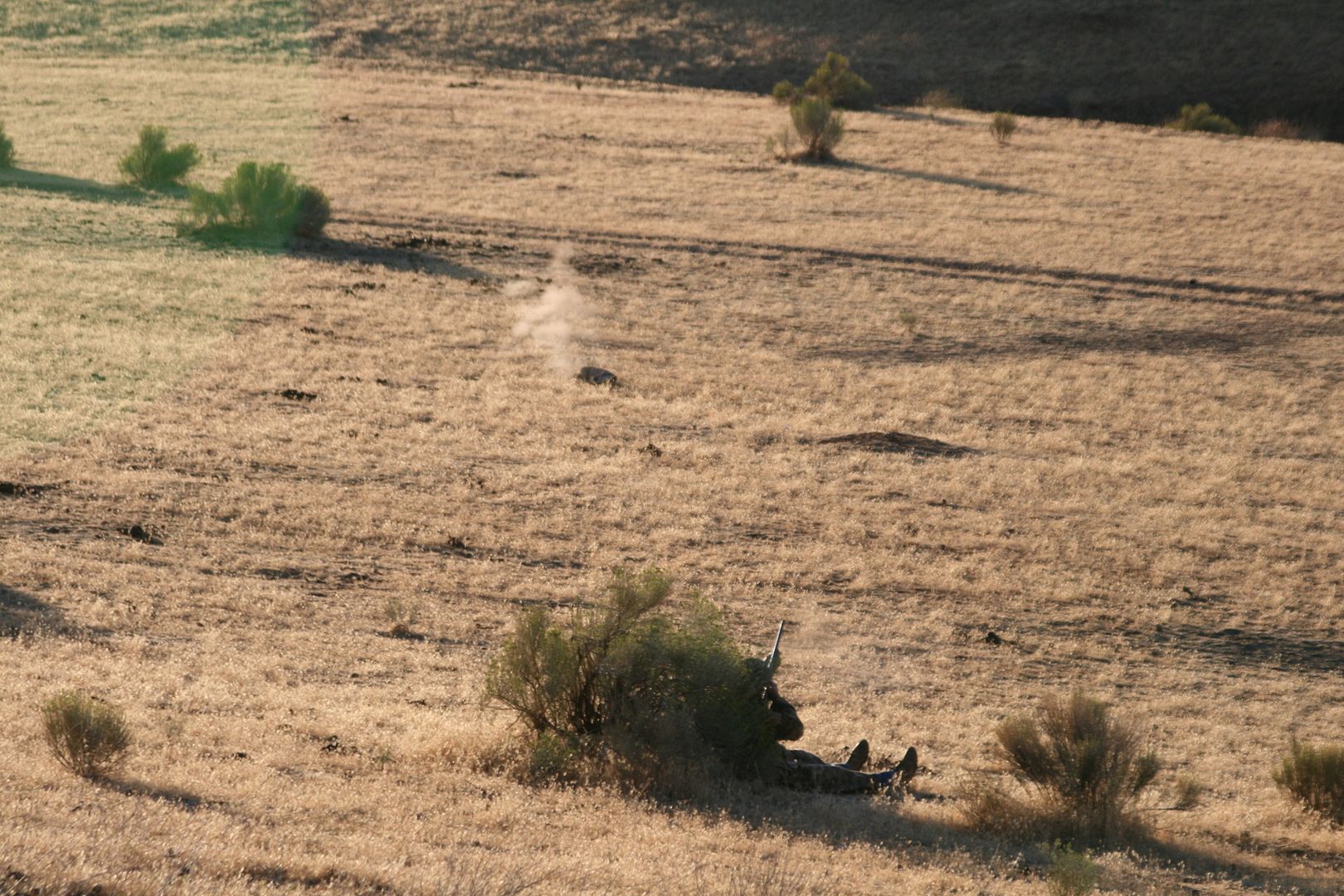 The shot finally got there.
Here are two pictures of a shotgun shooter using a pillow in open country. I like using shotguns with 26" barrels or longer. It is much easier to keep the end of longer shotgun barrels pointed out past my foot.
Now even when we are calling coyotes in open country we have a shotgun shooter on at least 90% of the stands we make when we have two shooters or more.
If you can get your profile down lower in open country you should have coyotes come in closer.