As I posted earlier I had a job interview in Stead,NV will hear back on that sometime next week. Now if you thought I could go to Nevada and not hunt the coyotes that aren't there you thought wrong. Now I'm not going to get into the whole thing cause i'd just take to much time just let me say I missed a chip shot at 100 yds and it bent me. I don't know how I missed but it just happened. We get to the next spot and set up just below some rim rock overlooking a big bowl shaped bottom with 3-4 washes coming into it and we saw sign everywhere. After about 15 mins. I spot a coyote coming over a ridge over 350 yds away, It stopped and looked down at the Mojo and went like it was gonna commit and then stops pisses on a bush then turns around and just before it drops off the back where it cam from it stopped and took one last look.....................OOPPSSI centered the crosshairs just on top of its back and let an 87 gr vmax do its job and the unmistakable whack sound confirmed it did it. Now because of the terrain I couldn't pace the shot and my friends rangefinder was in the truck but it was a long ways from the rim we were sitting on to the ridge top the coyote was on. Here he is.....This is the first picture I took when I got to it.......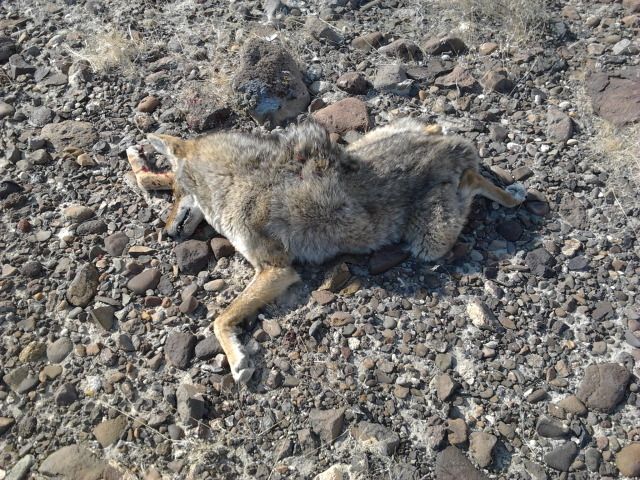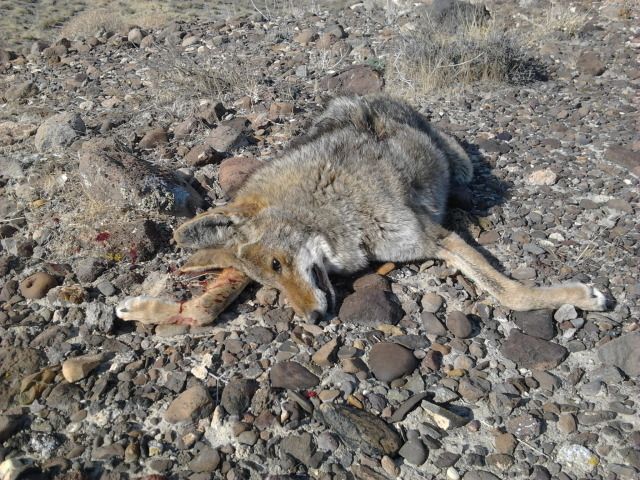 Later that day we call around a pasture and @ around 5 mins this female showed up and gave me the run around and vanished for a bit. When I finally picked her out of the brush again she was standing quartering towards me @ over 300 yds and I aimed right at the top of her shoulder and again the 87 gr vmax did the deed. I paced this off and if my feet didn't lie it was 325 yds.I've never seen a coyote jump straight up in the air on impact but this one did, Went 20 yds from where it was and piled up how I don't know it had a huge hole...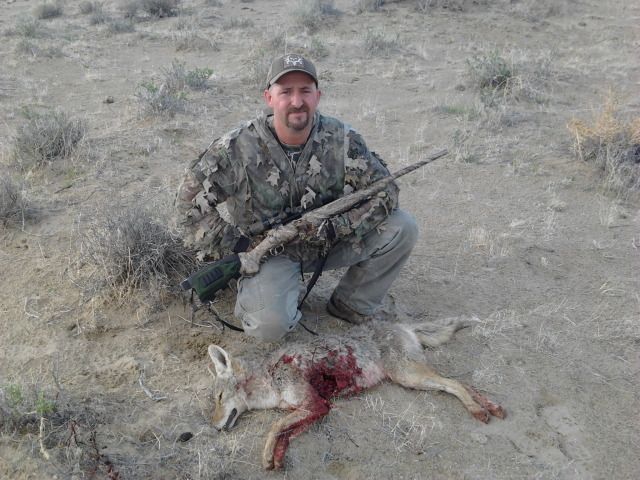 All told we called 6 coyotes and I missed a chip shot and nail 2 long ones go figure that one out.......My friend Austin missed all three he had in his sights but in his defense none of them would stop and it didn't matter how loud we were they just charged straight in and he had to try running shots, He'll get em next time and I'm sure the Nevada coyotes don't want me to get that job in Stead.