So the plan was to take Satan in the form of two children (my 6 and 12 year old nephews
) up to the Sierras for their Spring Break and let them do a lot of shooting and some calling in two new spots I had wanted to try. Unfortunately, the wind did not have the same plans. I got a chance to let them do a little shooting on Monday. The oldest fell in love with his great, great grandpa's old 1912 Stevens SxS and a box of mild #4 buckshot that did not pattern worth a darn for me in the intended guns. He thought he was right there in a John Wayne movie. And the youngest one got to drive (both steer and gas and brake petals) while sitting on my lap when we went somewhere. You think they weren't happy?!
But come Tuesday, the 25+mph winds had not died down, so calling was a mute point. But I did
NOT
want to have to keep them in the trailer all week, so I decide to take them out looking for rabbits. Even if we didn't see anything, we were at least be out and doing something. To my surprise, there were tons of rabbits even in the high winds. Lots of cottontails (cant wait until the season) and lots of jacks. Now I am not very fond of jacks and the man we used to give them all to is no longer around, so what's a guy to do? The kid is pure death on anything in front of him with a shotgun, just ask anybody that has shot with him, so that was out. Then it hit me, rifle and pistol only, just the way I like to do it. Odds are he won't even get one, but if he does, we can let him try it and see if he likes it. And if not, the big guy on the right of this picture is obviously not a picky eater
.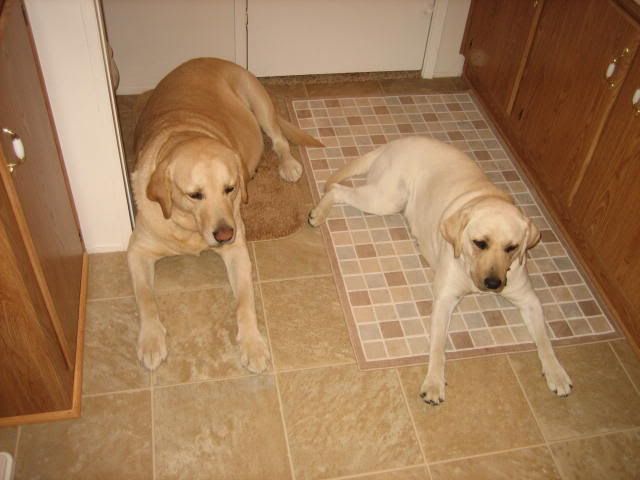 Well, the plan worked perfectly. The kid spent the next 3 days jumping in and out of the truck chasing rabbits while the youngest one and I drove along the road while he was 50-100 yards out in the field walking on his own chasing bunnies. He had the time of his life hunting while his younger brother did the same while driving. And best of all, it wore them out at the end of the night.I know, what about the coyote though? Well, Thursday afternoon the youngest one and I were following the oldest again when we hear a death curling scream and a handful of shots. I have the youngest one park the truck and take off running into the field where I see the oldest one shaking so bad he can't even move. I'm ready to grab him and make tracks to the hospital in Bishop thinking he got bit by a snake! When I ask him what happened, he tells me in a shaking voice, "A coyote. It was a coyote this tall (as he holds his hand three feet in the air), and he was going to eat me! He looked right at me like he wanted to eat me! I took a couple shots and he jumped up and yelped and ran away". So I start looking at the ground and where he was and try to put things together. I can see both walking and running tracks about 20' away from him on the ground. Apparently as the kid was walking into a 25+mph breeze, he saw a rabbit he was chasing run out of a bush, and as he followed it, there was a coyote that never heard him downwind that saw the rabbit also, and the two of them locked eyes
. I do not believe he hit it, as at that range it would have been dead or severely bleeding, but decided we would make a very extensive search. While searching, we walked up the side of a hill of volcanic rock. That is where we see the head of a coyote pop out about 100 yards from us. I tell him to watch since has the better eyes, and proceed to follow it. I can't catch up to it, but on my way back I hear the kids yelling again. Apparently they heard a howling noise and went over to see what it was when they spot another dog! I explain to him how they may still be grouped up this time of year, and that we are chasing multiple dogs and not just one. I also explain how I do not believe he hit it with the pistol, but rather scared it and made it yelp. That made him feel better since he was really feeling bad about just injuring it. And as we waked back to the truck, I realize that we are only about 300 yards away from where I had wanted to try calling if the wind was not so bad. Guess I still have a knack for picking spots
.So in the end, we did not mange one rabbit (or anything else) all week, but still managed to have a time that he will forever remember and tell even his grandchildren about. Even more proof that you don't have to kill something to have it be a success. And best of all, it turns out he still prefers to hunt rabbits with a rifle or pistol even though he didn't get any. He just thinks it's a lot funner also. And to think, this is just his first year hunting with me, and it already feels like a lifetime of adventures with him. I can hardly wait for the rest!Oh, by the way, when asked which he would prefer to hunt, coyotes or birds? His reply was "While coyotes was totally exciting, I still like the fact that the birds don't want to eat me"