Started out this morning with Clampdaddy & I meeting up with Shoot-it at about 6:10am in Stevinson to try our luck out by the river. We found a spot that looked promising, so we set up the decoys, fired up the calls and nestled down in the brush... Nothing. We had a total of 4 high-flying birds in about a half hour. We made the decision to pack up and race over to another one of our spots out west of Turlock. Got there at about 7:45am, threw the decoys out and started the calls. As we were trying to get settled down in the tall weeds, I smoked the first crow to come in and it came within about 3 feet of landing on Shoot-it. He was facing the other way and didn't even see the crow until it smacked the ground right by him!
We kept shooting until about 9am and got 18 birds total. It wasn't quite as good as the other spot we've been hunting the past few weeks, but still decent since we didn't get into the birds until later than usual. Plus we had to take quick shots because we were at the edge of a grove of eucalyptus trees and the crows would fly out with no warning. We shot a few birds that we heard crash down in the brush and hit the ground, but we couldn't find them since it was so thick. Here's a pic of the birds that we did recover: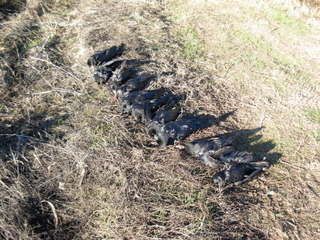 Here's a pic of the eucalyptus grove:
After we gave up on the crows, Shoot-it left for home so Clampdaddy and I decided to go see if we could find some ground squirrels basking in the sunshine. I used my .223 to get one in the neck at 154 yards and one in the head at 15 yards (GREAT carnage!). Clampdaddy used his .17hmr to get one at 132 yards and one at 66 yards. We wrapped it up by 11am, all in all another good day!