Had a great trip with an old college teammate form 68. Chuck pulled his drift boat and we fished the Chetco for 3 days. We side bounced, boondoggled and back bounced roe with either sploosh balls or slinkys. Saturday was slow. I boated one 13" cutthroat Chuck 0. Saturday I boated 1 steelhead Chuck 0. We both boated a couple smolt. Monday I boated 2 steelhead Chuck got the big fish at about 8 lbs. We were both smolted 4-5 times. I'm including the note and photos Chuck sent to show how we McGivered a wheel bearing and tang washer. This was definitely a lucky penny. Steve and I just got back from a Steelhead trip, and boy did we dodge a bullet. Prior to leaving, I checked the wheels on my drift boat trailer, and found all to be in order. After a four hundred mile drive to Brookings, Oregon, Steve looked at one wheel and said "this doesn't look right." I pushed on the wheel, and it was ready to come off of the axle. Some where along the way the tang washer that prevents the castle nut from turning had failed. The castle nut is what keeps the wheel on the axle.The wheel flopping around popped the hub cap off, and grease was everywhere. But wonder of wonders, the hub was still cool to the touch. Having no replacement tang washer, we put our heads together and came up with the "lucky penny". After snugging the castle nut and bearings back up, I hammered the penny into the flat spot on the axle to secure the castle nut Then, using aluminum foil and zip ties, I made a new hub cap. This "fix" preformed well for three days of fishing, driving to and from the launch, and another four hundred mile drive home. A total of five hundred miles or so. I received the parts in the mail today, and have installed new bearings with the replacement washers and caps.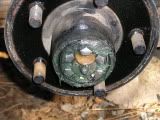 PENNY ON FLAT SPOT ON THE AXLE.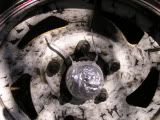 FOIL COVER WITH ZIP TIES.