Well, it's officially over, and was quite a ride! We introduced two kids to their first year of hunting, managed to get one of them chukar, while the other had had many a vest full of quail and also started learning to drive (on the dirt). All in all it was a great year, and the last hunt on Saturday taught me quite a bit again. I could not get out on Sunday, graduation party and a birthday came first
, but I was sure glad to have made it out Saturday. I took pops and the nephew out for one last hunt. It was a bitter sweet ending Saturday. Pops is getting a little slower every day, and can hardly walk anymore. The leg they took the artery from is especially bad and swollen after even just a short walk. Not bad though considering that over 20 years ago when he lost 67% of the muscle in his heart and after all the surgeries and devices put in, they said 5-10 years tops for him. Anyway, it's kind of an unspoken fact that after this year he will be pretty much confined to sitting and shooting dove from now on, which is OK, because he really enjoys that.So we get into the valley just before 8:00am, and decide to hunt from the very back down hill to the valley opening, taking breaks along the way and sending the kid back to get the truck at times so as to keep it close by. I drive through the creek crossing and drop off the two of them and drive the truck back over to the other side so the kid doesn't have to "off-road" to bring the truck to us later. I no sooner park it when I hear shots being fired.
I always feel good when I have put someone on to birds. When I catch up to them I hear how grandpa flushed a covey right to the kid, but he missed both shots. So I follow him chasing the covey when we hear it, that magical tune. Chukar! And
real
close! I send him across the creek and through the thick brush to go get them. While crossing the thick brush by the creek, he flushes a dozen quail. Then he gives me that what-do-I-do look?! I tell him he can take the pretty much sure thing and get the quail, or we can take the chance of chasing chukar and probably end up empty handed. He says "I've already got enough birds this year, but I
really
want a chukar". Proud at this point is an understatement. You can teach them to shoot, and you can teach them how to hunt,
but you can not teach them how have "heart" like that
.
And this is why I feel bad for all the other
bird hunters (but not bad enough to tell them where I go). While they climb over hills and mountains all day, all I have to do is walk the floor of this valley near the water, not head up the hills, unless I just want to
I know, it's kind of like cheating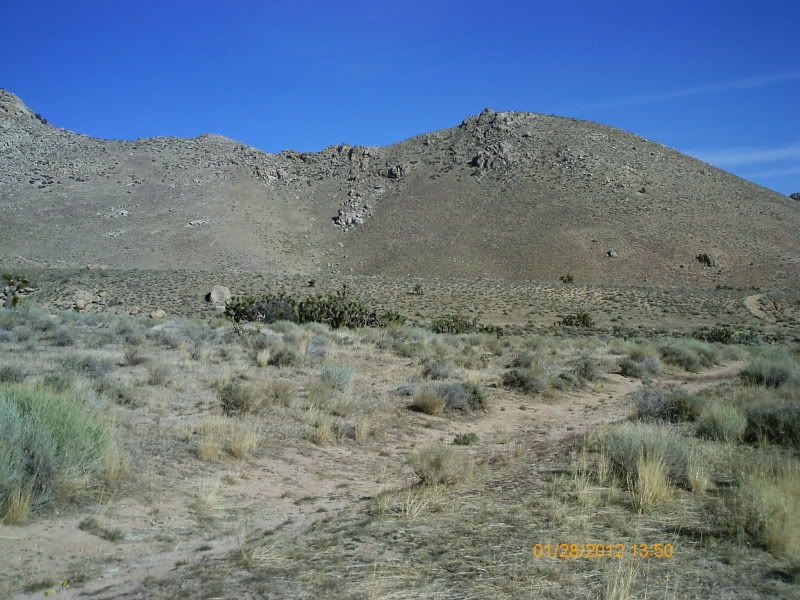 We ended up chasing these birds along the creek, over the rocks, around the yuccas, and through the brush as thick as Rosie O'donnell's mustache. At one point I could hear them moving three feet away in the brush, but it was so thick I could not see them, only hear them. Now that was a rush! We chased these
birds for over six hours, but just couldn't quite catch up to them. Not even the 11 year old legs could catch them, even though they were everywhere. By 3:30, we had sent the kid back for the truck while pops and I made one last ditch effort and chased them into another creek bed covered with brush. At that point pops looks at me, completely exhausted, and said "That's it, I'm through". My heart sank a bit, because deep down inside I knew he didn't mean just for the day
. I could tell by the tone that this was probably the last year of quail for him. Not long after that, my truck comes pulling up, with an 11 year old with a grin so big he could have used another face to help spread it. He has a CD case sitting on top of a travel pillow so he can see over the wheel, and the seat all the way up to reach the pedals, but most importantly he has his gun unloaded in the soft case in the bed like he should. As we sit there all together, watching the young one play with the chukar call one last time, both pops and I realize what we are seeing. We are seeing the future before our eyes, and the torch being passed as one had probably hunted for their last year here and the other had just finished his first of many. many years of hunting here. A familiar scenario my family has done for several generations here in this valley. I felt like the richest man in the world, and would not have traded Saturday's hunt for all the birds in the world. Being part of a long line of tradition is a very humbling feeling.And people wonder why I get so upset about the sacredness of my hunting spots......................