Posted over at Ruger Forum too. Wish I had gotten into single actions years ago.I finally got to take my new Ruger Bisley Blackhawk in 45 Colt, with 7 ½" barrel. The gun has a surprisingly light pull….now. Though it was 6# out of the box, with taking one side of the trigger return spring off its "hook" and firing a few dry fire shots while strongly pushing forward on the hammer, it smoothed out the pull and now it breaks at about 4#The finish is nice, and the cylinder carries up nicely, and locks tight. At the range, I figured I'd see how the sights needed to be adjusted, as well as chronograph some home-brew ammo. Ammo:The loading is a 325 grain hollow point or the flat nose version of the same bullet over 13.0 grains of HS-6. From John Linebaugh's hand-loading data, this is a "middle of the road" loading for "Ruger only" loads. The bullets were cast from an mp mold that is a Cramer style. This allows the pins to be reversed so that a flat point bullet can be cast instead of a hollow point. The hollow points were cast with a 20:1 lead/tin alloy and weighed in at 325 grains, while the solid version was wheel weight with 1% tin added. These were water dropped. The bullet lube was a mix of 1# beeswax, 3 Tablespoons Vaseline, and a tablespoon of Johnsons paste wax.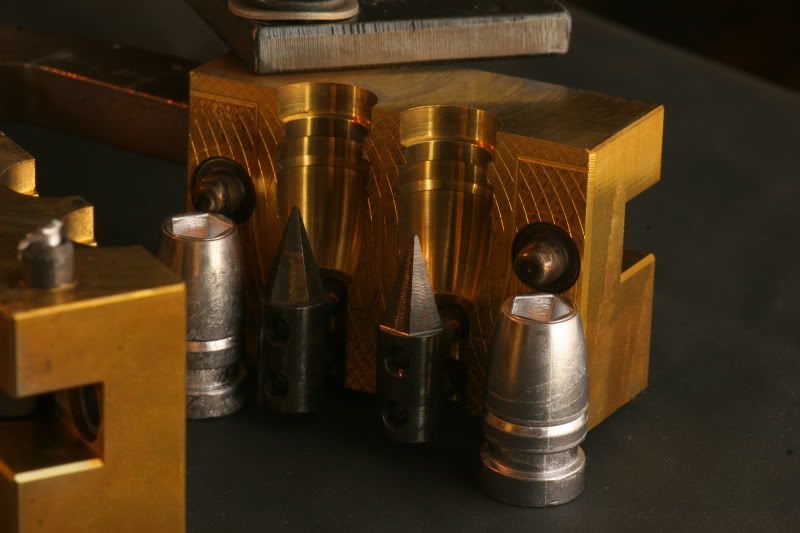 The bullets chronographed anywhere from 1050 to 1150, with the mean velocity at 1120fps. The Bisley grip is VERY comfortable, and the recoil felt negligible. The first group, fired from the bench, was low (the rear sights were at their lowest setting) but tight, the flier above was my fault. After shooting 50 rounds of these plain base bullets, sized to .454" there was some minor leading, which was easily removed with a brass brush/chore boy. Case extraction was not sticky, in the least.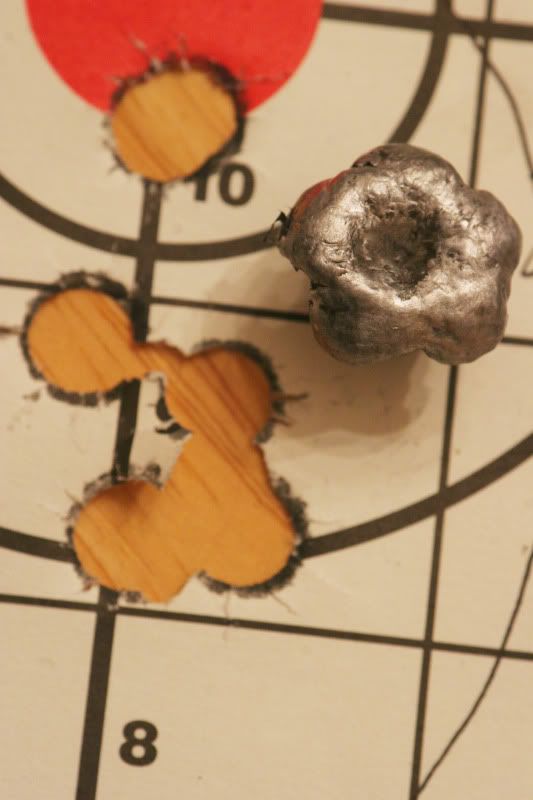 Terminal Performance:The hollow points penetrated anywhere between 20 to 24 inches (24" is the end of the trap). The solids ALL penetrated to the steel arresting plate at 24", with no expansion. The hollow points held together nicely (only occasionally would one of the petals tear off) and consistently expanded to between .75 to .80 inches.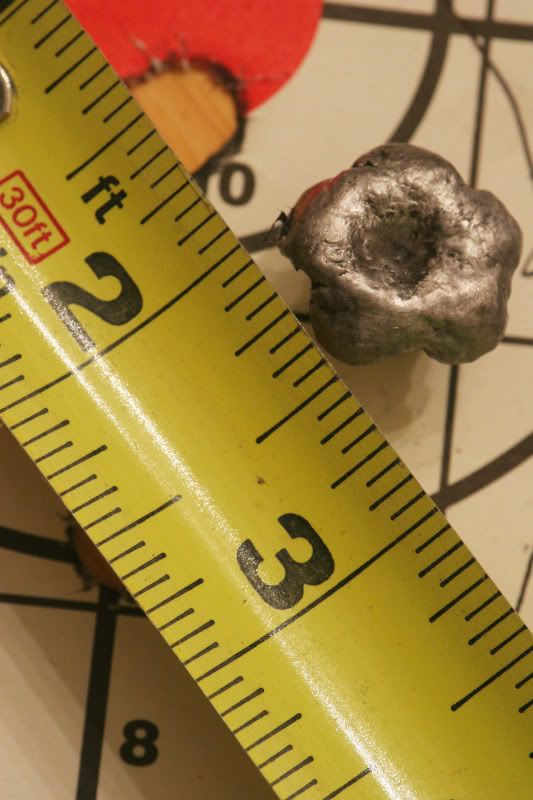 Summary: LOVE this gun. Time will tell about whether or not the cylinders will need to be opened up. So far…no major problems with leading or with accuracy…from the gun anyway. The next batch of bullets, I'll size to .452 and see how well those run through the gun. These hollow point rounds look like the ticket for deer. The solid bullets look good for tougher animals like bear and boar. I will next try out the solid bullets poured with 20:1 and see if they will mushroom a LITTLE, as I'd like SOME expansion on boar.