We (my brother, a friend and I) got back from Wyoming this morning about 6 AM after 20 hours of driving with three buck antelope on ice.We hunted out of a friend's ranch west of Medicine Bow, Wyoming I got mine the second day after a four hour stalk and passing on at least 50 smaller bucks. I had looked this buck over and even at 1,000+ yards I could see that he had good mass and the tips came back far so he was the one I picked. He chased a smaller buck within 100 yards of me but I couldn't get a shot on him before he ran back to his harem. I stalked down the mountain about a 1/4 mile doing the last few yards in a crawl before the whole herd started moving toward me and I was caught out in the middle of the sagebrush flat with no cover higher than about knee high. My buddy was directing me with hand signals from behind a rock 400 yards away, to tell me which way the goats were moving. I had a small ridge about 50 feet in front of me and the antelope were walking on the slope behind it about 250 yards away. A doe passed through an opening in the sage brush ahead of me and I lasered her at 286 yards I had glimpsed the buck a couple of times and knew that he was coming next so when the front of his neck came into view, I put a 100 grain Nosler Ballistic Tip bullet through it. He did a bang-flop and I didn't get a real good luck at his horns until I got to his carcass. Here he is: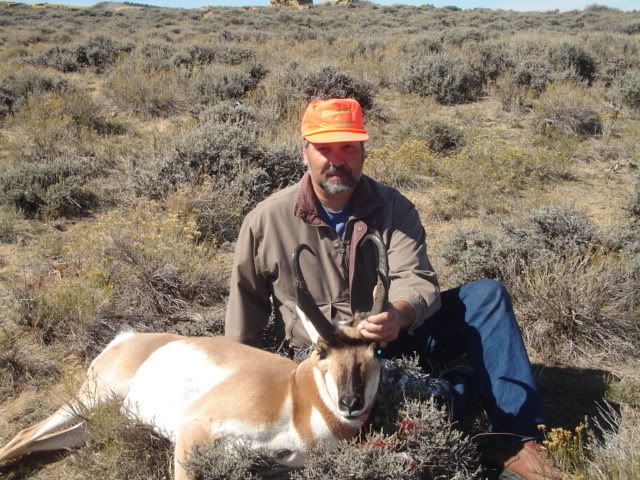 The BT left a nice little hole in the neck going in but the two vertebra that exited the other side destroyed the cape.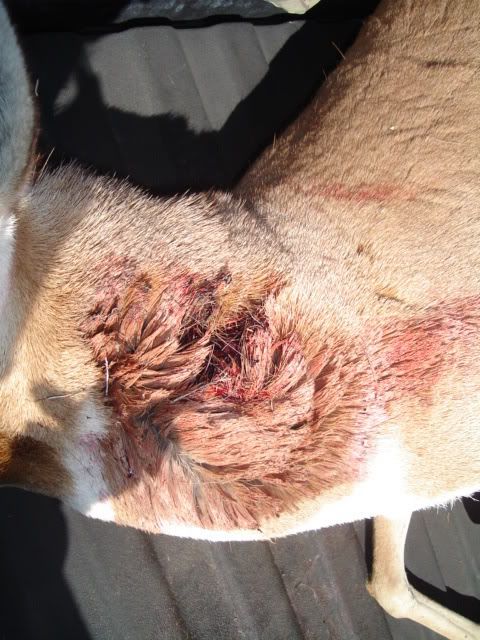 My brother stalked a nice buck but wound up having to take a shot at about 410 yards, uphill in a strong crosswind when a group of does busted him. Here's his buck: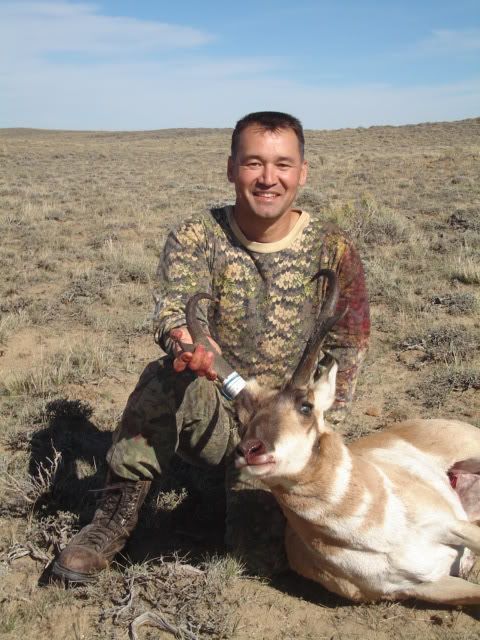 He actually had a bigger buck shot out from under him when he and another hunter were both stalking the same buck without knowing the other one was out there, for about 1.5 hours. The other guy shot the buck while TINMAN was watching through his scope.