Well, my girls are producing eggs faster than I can find ways to use them. So at an average of 16 eggs a day and sixteen dozen sitting in the refrigerator I had to come up with a plan. So since I love pickled eggs it seemed the way to go and they've become a Big favorite with everyone that has tried them. Other than the fact you have to let the eggs sit in the refrigerator for two weeks before you hard boil them (they don't peel well if you boil them sooner). After two weeks the egg has shrunken slightly and the shell comes off much easier without tearing the egg. I've tried a couple of pickled egg recipes and have a fairly simple spicy one now that everybody seems to like. In fact I have an order for 12 dozen for a friends duck club I'm starting to fill.We collect the eggs from the hen house and hunt for some hidden one around my horse stalls and one of my boats. It seems my Ameracuna chickens like to play Easter egg hunt and being their eggs are the blueish and green eggs I guess that's fitting. They're just a more wild bird I guess. But I'm slowly teaching them to all use the nest boxes in the coup.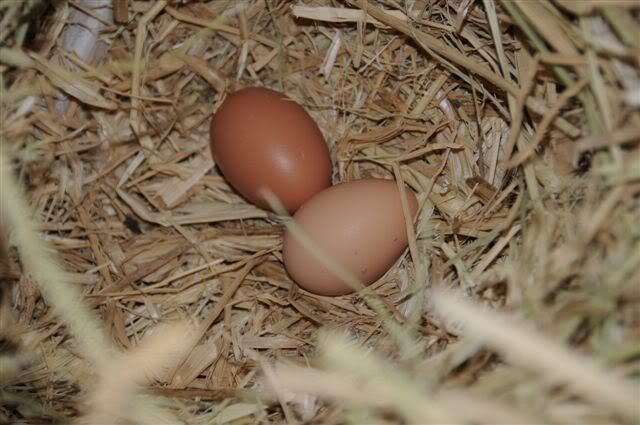 The eggs go into boxes to be aged the required two weeks. You can see the varied colors of my birds eggs. All of my birds are free range they have a half acre of grass and another quarter acre of garden to roam around in and eat grass and bugs along with their organic feed.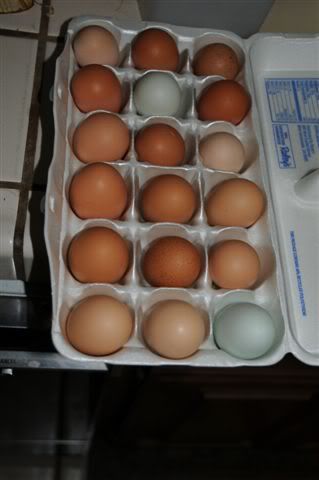 Here are two jars of twelve all spiced and ready to go into the refrigerator. My next batch will be canned to store longer but either way they are ready to start eating in four days.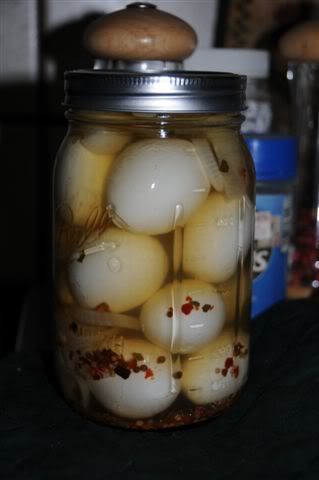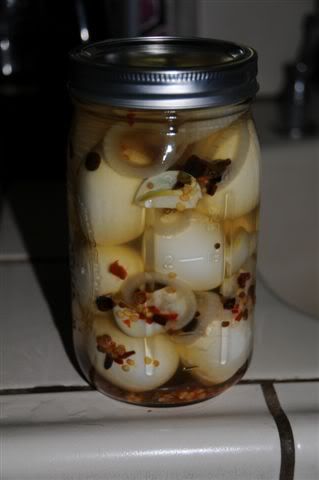 The best thing about these eggs is how dark orange the yokes are. They are also lower in cholesterol and just plain yummy.