I'm a novice reloader, and there are a couple of other novices around here as well. I thought I'd share my method of working up a load. Those with more experience and wisdom than I have, feel free to comment or make suggestions. If there's a better way to do it, I'm all ears.I'm trying to work up a super accurate load for my Savage 12FV 223 for punching paper at 100 and 200 yards maybe 300 max. I chose the 53gr Sierra Match King BTHP bullet to experiment with cause the local shops don't have the 69gr SMKs and I'm not ready to make an internet order yet.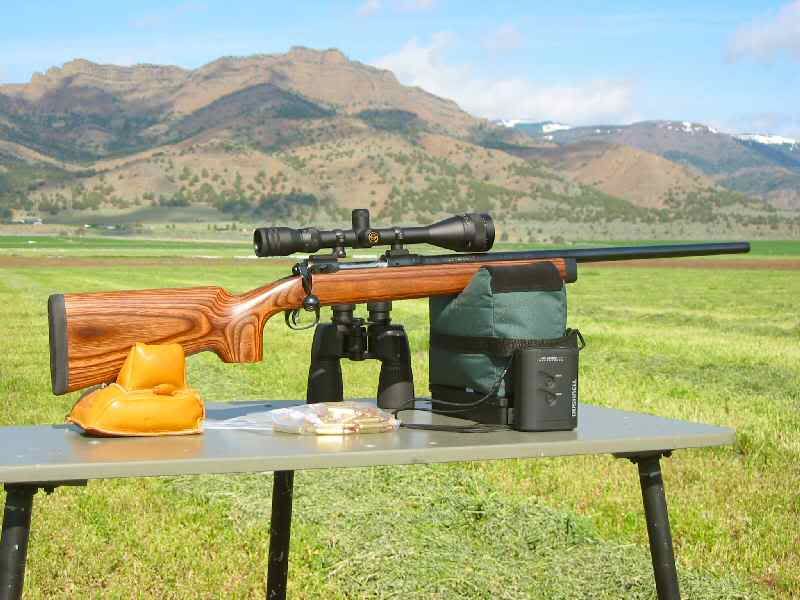 My brass is all cleaned Winchester once fired and full length resized with an RCBS die and Imperial Sizing Wax. They're all cut to the suggested "trim to" length each time they're used, chamfered, deburred, primer pockets uniformed, and flash holes deburred indexed off the trimmed case mouth. I haven't gotten into weighing and seperating cases yet... I measure the powder in an RCBS powder measure just below what I want on my RCBS 5-0-5 scale and then trickle the last bit in with a powder trickler for the exact amount I need. It's too easy to get lucky with 3-shot groups, so I use 5-shot groups for testing. I start off with 5 rounds each spaced 0.5 grains apart. The best accuracy seems to usually be just under the max load, so I load up some extras in that range and a few more +/- 0.2gr in each direction and hope that's the sweet spot. I'll show you what measurements I used just to illustrate the method, but you will have to use your own recipe from your manual for your individual loads. For this particular load using H335 powder, I loaded the following combos:5x 26.0 gr5x 26.5 gr5x 27.0 gr5x 27.5 gr (almost max)I figured the best accuracy would be near 27.0 gr, so I also loaded these additional rounds:5x 26.8 gr10x 27.0 gr5x 27.2 grBullets are seated with an RCBS competition micrometer seating die, which is way easier to use than a standard seating die. The O.A.L. is checked with dial calipers, I measure the first couple until they average close to what I want, then leave it alone. The runout on my loaded ammo is between 0.00125" and 0.0015" on average, which is very acceptable. I like the free printable targets from Midway's website, so I printed off a bunch of those. I shoot on public land using my portable shooting bench and tape my targets to a cardboard box 100 (lasered) yards away. Today I forgot to bring a box, so I had to use my target binder as a backstop. I cleaned the bore thouroughly and got ALL the copper out. My bore fouls less and less now that it's broken in after about 800 rounds. I set the scope to 20x and fired a cold shot with my favorite hunting round, just to check the POI, followed by 4 more to see how they compared to the cold shot and to foul the barrel a bit. Put that target aside. I only had about 30 min of light left, so I had to shoot fast. My barrel was warmer than it should be for testing loads, but oh well. After each shot, I checked the brass and primer for signs of pressure in my rifle. As I approached max, the primer showed some slight flattening, but nothing serious. Here is the first target showing the first four basic loads: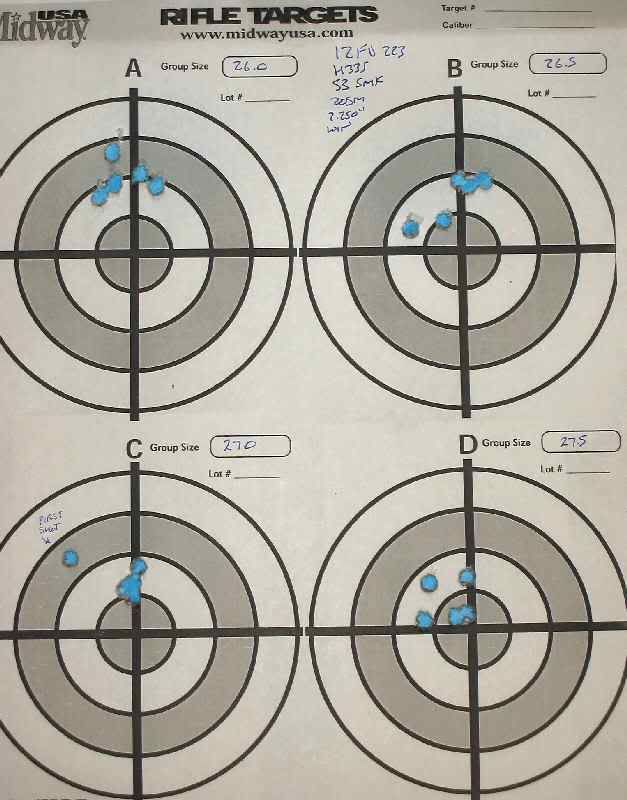 As I suspected, the best accuracy is just under the max recommended load. Since I had loaded up some more rounds in that range, I fired them off. It was nearly dark, so I used some orange stickers to help me see a little better. I really had to rush these shots off before it got too dark to see. There was just a slight breeze maybe 1-3 mph.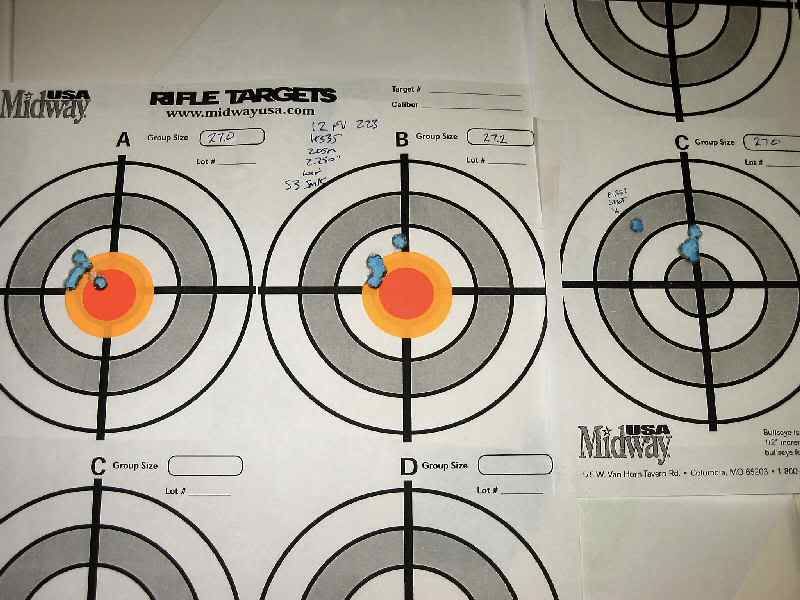 Four shots in the 2's and 3's (one ragged hole) repeatedly, with a flier in each group. I'm pretty sure the fliers were due to shooter error, because I was really rushing my shots. And this was with a warm barrel too, I didn't have time to wait between shots, so it was one after the other. Now I've got a pretty good idea where the sweet spot is. As much as I hate paying to shoot, I need to go to a real range with a real bench during the day to get some more consistant results. My shooting bench isn't 100% rock solid, it was getting dark, and I was rushed tonight, which adds too many variables into the equation. I'll load up some more +/- the sweet spot and see what groups best at the range. Maybe then I will mess with the seating depth, but for now I'm sticking with the manual's suggested depth. Like I said, I'm pretty new at this, so if anybody has any suggestions on where to go from here, feel free to help me out. (hint, please add input)
If it weren't for the flier in each group, those would be some pretty good groups!