I know it's still a few months away but I'm already itchin' to get back out into the duck blind. Today I got a wild hair and decided to give my bad weather gun some TLC. I originaly stripped it down just to give the bolt and magazine tube a coat of dry grafite but when I went to spray the parts I found that my aerosol can had leaked out all of the propellant.
I figured that scince my gun was already torn down I might as well give 'er another coat of paint. This time I left out the green in an attempt to simulate the Max-4 camo pattern that I buy most of my duck hunting clothes in.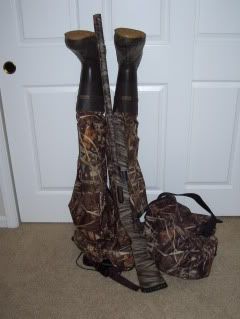 I think it came out ok but next year I'll try to find some tan and brown that matches a little better.