I know of two guys on here for sure (Rob and Ed) that can appreciate this. My new Stetson that I ordered on the 4th of July came in last week just before our Sunday hunt, but the new hat band did not get here until yesterday. I decided to upgrade my aging Stetson. A 6X Rancher with a diamondback hat band as opposed to my 4X Roper with a prairie rattler
.
I walked into Boot Barn (closest Stetson shop around) and straight up to the counter and asked the lady if I could order my new Stetson. She kind of gave me "that look" and said "How do you know we don't have it here?". So here is how my reply went: "I am looking for a Stetson with a 5" crown so it sits farther down on my head during the windy October-February bird season. I would also like a 4" brim since the 3-1/2 just looks way too short for my liking on a western style hat. And while my current Stetson has a nice wide and flat brim up front to block the sun, it also kills my peripheral vision while hunting and hits my scope while shooting. I would prefer more of a V shaped brim to eliminae that problem. It also has to be black, preferably a 6X this time, but I will settle for a 4X if I have to. And since Stetson only makes one hat to that exact description, the Rancher, would you please go pull it off the shelf for me then?".
She looks in the book and punches a few keys and says "It seems nobody has one, we will...." I stop her and finish the sentence "Have to get one from Stetson themselves, and if it has to be made, it could take 4-8 weeks to get here right? Now, can we please order my hat?"
She apologized because there is a trendy country bar above the store and she was not used to having somebody that knew their hats come in. I took that as a compliment and thanked her kindly.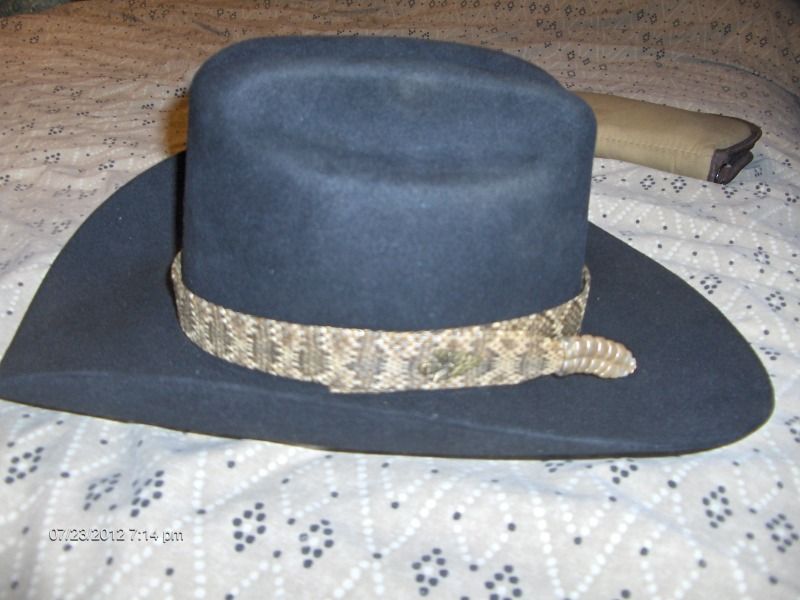 Now I am not a superstitious guy, but my last Stetson came home with me from Colorado about three years ago, and while love that fact, it just never quite felt the same (lucky) while hunting. The hunts were still fun, but not as productive as years past with my California bought Stetsons. But I got this one last Wednesday, and look at the Sunday I had this last weekend! The only thing this new one is missing is he glitter and the smell of White Rain form the she-kitties, but we will remedy that here real soon
Also, is it just me, or does the cowboy inside their liner look like Ronald Reagan? My hunting partner says it's more that Ronald Reagan just looked like all the cowboys did back then