I have said it before, and will say it again, some things you should not have any fear trying yourself before taking it in to the 'smith. Obsolete or rare firing pins being at the top of that list, but many other parts can be done too. I have lost count, but this is like fourth or fifth one I have done in the last year or two alone. Seems everybody slips up eventually and dry fires an old shotgun breaking the pin
. This last one is for a cheap O/U shotgun that is less than a year old, but parts can not be found for it. And after a $75 or so charge to make one, I "volunteered"
again
to do it. I am a former Ironworker after all
. But I thought I would show just how easy it really is for anyone to do it with next to no tools in their garage. You will also see why I laugh at these shows like Sons of Guns with six digit machines when I can do this for less than $100 even if I bought all the tools new. These pins do not have to exactly DNO (dead nuts on) to work, simply able to move enough and the right length to strike without piercing the primer. Remember,
lots
of guns were before CNC machines were here and they had to do everything by hand. And they still go boom every time.This pic is stage one. It is the firing pin for the under barrel, the broken pin for the upper barrel, and the hardened tool steel punch used to make the pin. I bought a bunch of these punch pins at a yard sale years ago just for projects like this.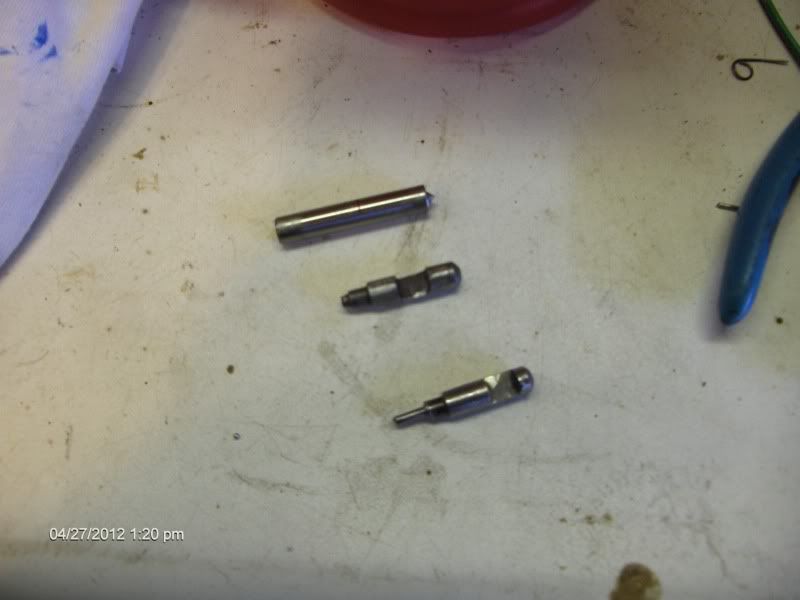 Once you use a set of calipers to measure and mark where the shoulder should be (I use a fine tip Sharpie) chuck it up in the drill and hold it in place with a vise. This is so that you can use the drill to spin it one way (adjustable speed drills are your best friend here) while the Dremel tool is used to grind it the opposite direction giving it a nice fairly smooth texture. Remember, the drill can be used in reverse if need be to make them spin counter clockwise of each other. Then simply grind down to the same diameter as the original pin.
One thing to be careful of here is that you do not grind it so fast and so long as to super heat the metal and take the hardness out of it.
Pause frequently and cool it down. I use spit and wet fingers while it is still spinning in the drill for this myself. Too much water too quick will ruin the temper on it.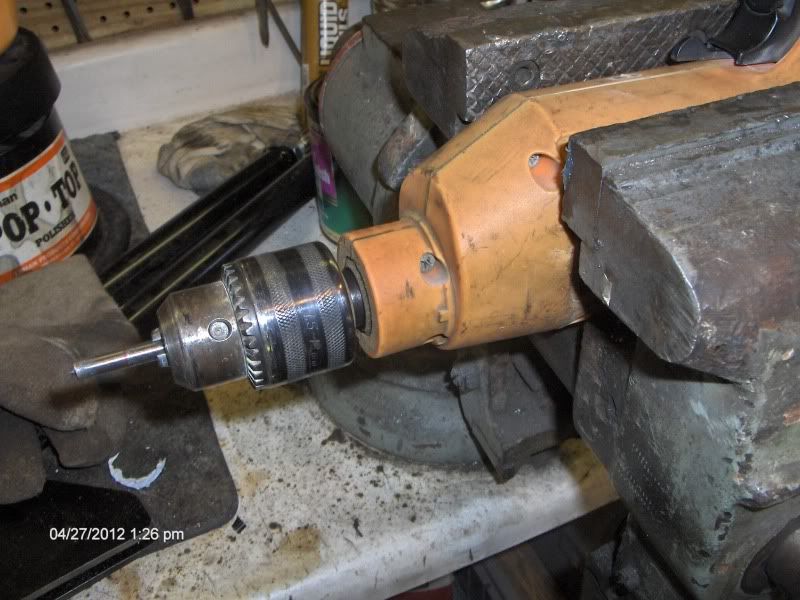 When that is done, mark it for the next step down and grind some more.
You now have a pin with an overly long tip that can be ground down to proper length. Also the reason you want to start from the back (hammer) side and work forward leaving you plenty of length at the tip.
Now you simply mark the slots for the retaining pin and slot it out. Again, make sure you measure depth and width of the old firing pin. And even if the slot is a tad too long or too short, you can always adjust the actual striking tip accordingly with a test fire on a primer. There is more than enough room for it to move in the slot even if not "exactly" the same length and of by a few thousandths.
And then you have the finished product along with the broken pin and the good one. I like to run on a wire brush on the bench grinder to smooth it out as much as possible too. If you do not know the exact length of the tip of the old pin you will have to put the new firing pin in the gun and push it as far forward as possible and grind in small amounts until sticks out just far enough to set off a primer but not pierce it. I was lucky as this was an O/U, so I had another pin for reference. If it is just one pin, leave it long and test fire a primer only and work your way down until correct.
It's that easy, and only requires a vise, a drill, a dremel tool, an assortment of tips for the dremel, a $20 (I use digital) caliper, and a Sharpie. I know there are some machinists out there going crazy right now, but I have to tell you, I have done this close to a half dozen times and they are all still working like new to this day. And this last one was tested this afternoon and worked just as flawless as all the others. What do you have to lose in the end, three hours of tinkering in the garage? Worse case scenario is it doesn't work out and you have to pay anyway. Just remember three important things: Use only hardened tool steel, don't let it get too hot, and don't dowse it with water cooling it instantly.Now, take the money you saved and go shoot it.