I took the girls out for a little weekend trout fishing in the eastern sierras. Kind of an end of the summer trip before they head back to school. They've been spending the summer down at the beach catching surf perch, so I thought getting them out to fish for something else would be a good time.
On the way up we stopped off at a few spots to just explore. We ran into some wild desert donkeys that clearly thought we were there to feed them. At one point four of them had their heads in the truck. We took a few photos and got out of there.
We got to the lake late, set up camp and grabbed dinner. The next morning we hit the lake to catch some trout. We met my friends Rito and Jose and their friends and family up at the camp ground.
There was a total of seventeen of us, with nine kids.
That first morning Jessica was on fire, catching two of the first three. We broke for lunch and were back on the lake at 3:30 PM for the evening bite. We eneded up catching eight more before calling it a day. Jessica caught four, Alyssa four and me three.
The next morning we were back at it. I was all set to make pancakes for breakfast, but the girls wanted to fish and 'volunteered' to snack on pop tarts to get to the lake earlier. Once we got there the catching continued. Jessica once again lead the way catching the first three. We caught eight total that morning and again broke for lunch. After lunch and a hike, we were back on the lake for the afternoon bite. Jessica again scored first with her fourth and fifth fish. It was her first ever trout limit, so after a quick photo, we let the trout go. In fact that second day we let all the fish go.
Early Sunday morning we had to deal with a pretty intense thunder and lightening storm, but all remained dry in the tent and the girls braved through it. Probably the best camping trip I've ever been on. Jessica took first place in the kids fishing contest and took home her first fishing trophy. I don't know what we were doing, but our group out fished the other group 24 to 5.
The crazy donkey encounter.
At camp eating breakfast in Tawnoper Camo getting ready to go fishing.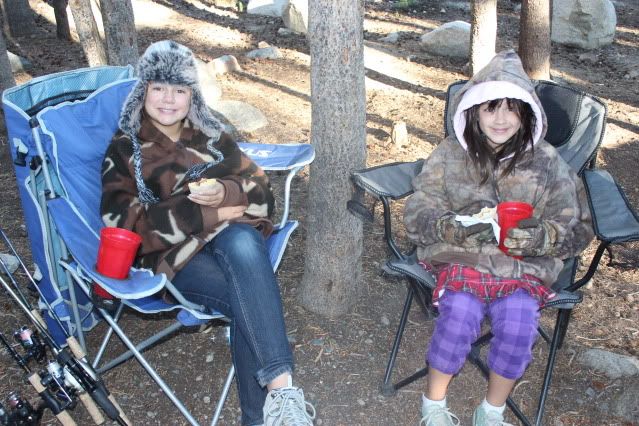 Jessica showing us how it's done.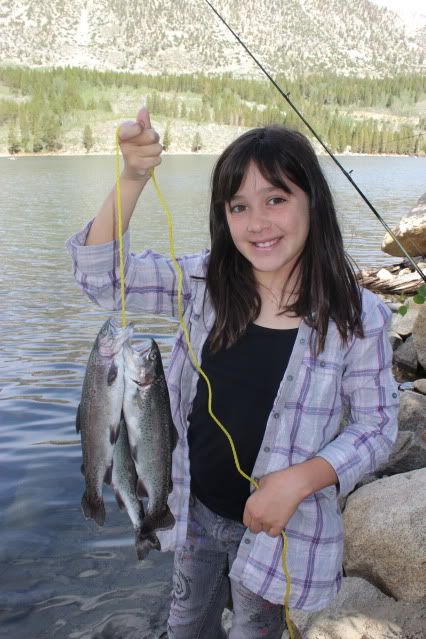 Alyssa trying to keep up with her younger sister.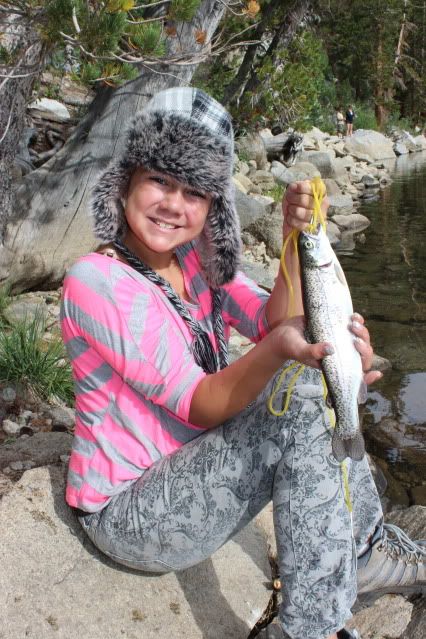 I couldn't let them have all the fun.
Jessica's very first limit fish. Can you tell how proud she is?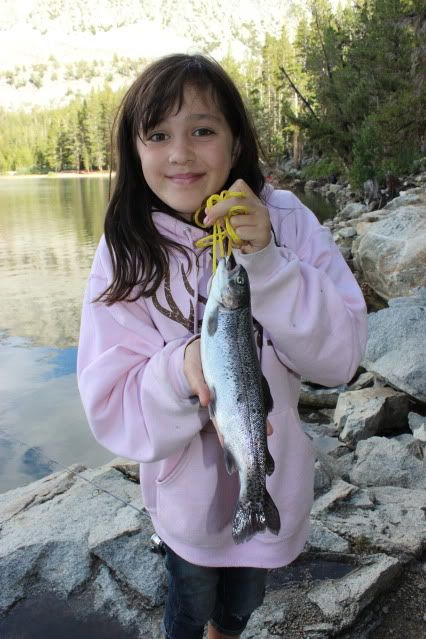 Our group photo at the end of day one. This one's going up on the wall.
I will say this, these two girls can fish! We had a blast!