I decided that I would take us all out this weekend for a little refresher course before the dove opener since my dad finally came down from Inyo and hasn't fired a shotgun in months. It showed too
. But not only did I take the young prospect I usually take, I took his much younger (6) brother. I was kind of worried he was going to get bored shortly since we can only shoot shotguns where I go. But much to my surprise, he wanted to learn to throw clays, did exceptionally well, and was happy doing it!
. Want to take a wild guess who in the famiy he really wants to be when he grows up?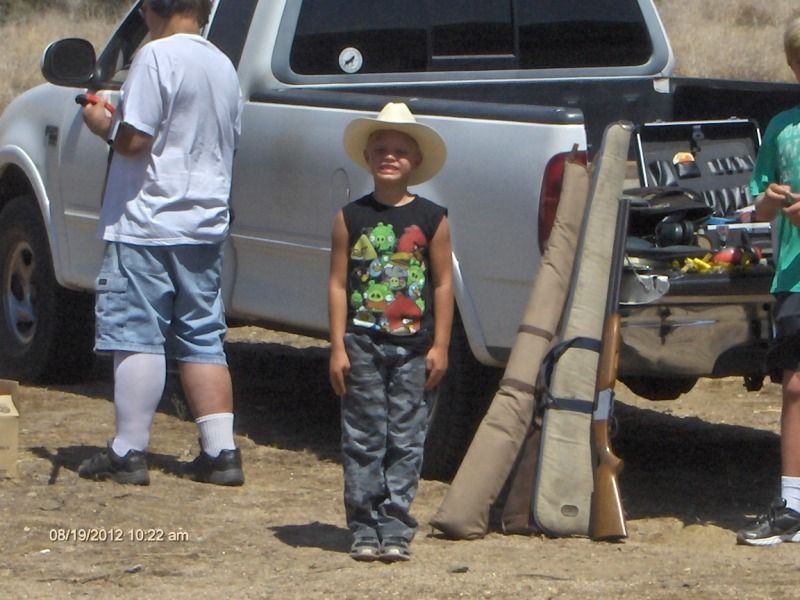 The oldest (prospect) did great, as usual. I had picked up a new to me O/U last weekend, for quail and chukar, and have been dying to pattern it and shoot it. After patterning, it was time to shoot it. I did alright at first, dusting one, and "breaking a few more. Then the prospect asks to try it. Well, 6 throws, 6 very fast shouldered and dusted hits! He hands me the gun with a (you know what) eating grin and says "Shoots good......For me". I hate him. I want to strangle him. I will never take him again. I...I...I am lying, I was as proud as an uncle can get and very proud of how quickly he has learned in less than 18 months. You really do have to see it to believe it.
I took this one of all three of them, grandpa and both grandkids, interacting and having a great time. The nephews seem to fight a lot at home, but do very well around us, so that is why I love to see pics like this where they are having fun together and getting along like best friends. Just one more great reason to keep this sport (hunting and shooting) around.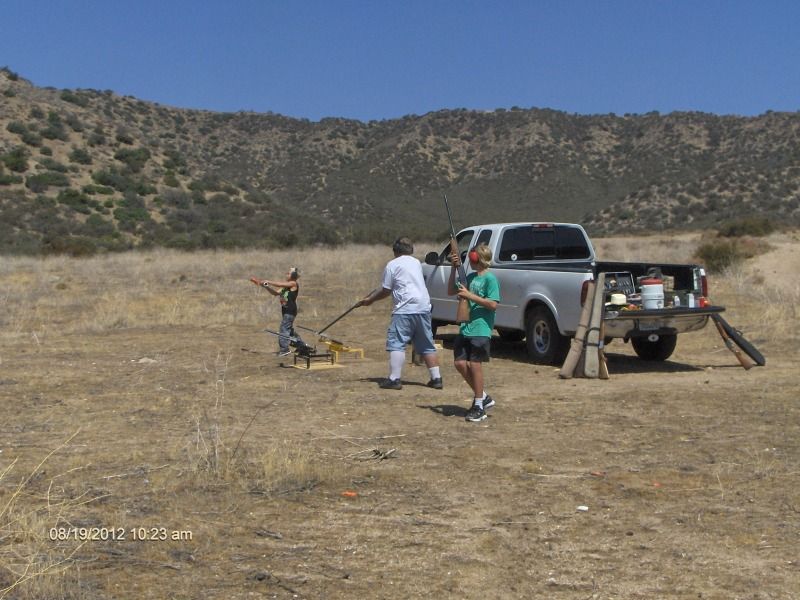 Before we left, grandpa (my dad) decided to see if the youngest one could handle the easier shooting Remington 1100 and some very mild reloads that I taught the oldest one with. We stood some clays up in the dirt and my dad helped him to hold it and tame the recoil with it. After the first shot, the kid was hooked. And he did so well that we got to the point in the second pic where he was holding the shotgun himself with grandpa just helping to keep the L O N G 30" barrel up. He was absorbing all the recoil and aiming all by himself for the first time ever! And he was dusting clays (not thrown of course) from 20-40 yards. Grandpa has a hard time standing these days, let alone walking, but he is still worth his weight in gold for times just like this. And all three of us could not begin to imagine leaving him at home and doing this without him, even if we get "hampered" by him being there at times like while hunting.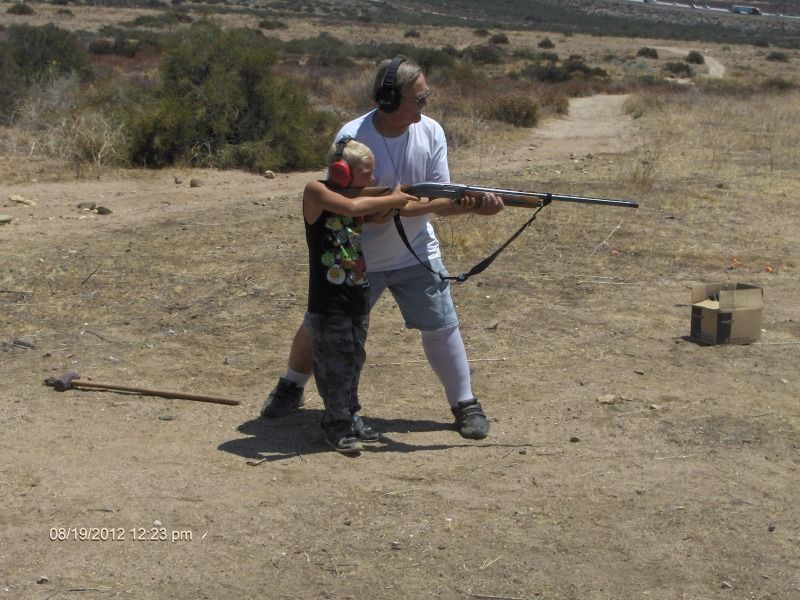 I wish the pics for patterning had came out better, but I can only hope you can see them clear enough to understand why it is so important for this process. I know,
, but it really is soooo true. The first pic is the Under barrel with an improved modified choke. Notice the very, very sparce pattern. That is absolutely a crippled or missed bird most of the time. The next pic is the full choke in the Over barrel. Now that's what I'm talking about. There is only one size lower in choke, but a H U G E difference in patterns. Luckily, they both shoot to POA, so no need to try new loads or wads
. Another reason why I wanted to do this before quail opener (the reason I bought the gun) so I have time now to buy a few aftermarket extended choke tubes and make it shoot like the second pic shows it will. Again, I can not stress enough how important it is to know
how
and
where
even your shotgun hits
, and hope this helps show you why.