I did some bass fishing yesterday at my favorite hole. The bass are still young and small, but there are TONS of them everywhere. Didn't catch any "big" ones this trip, most of them were in the 8" to 10" range with a few up to about 12". I caught approx 100 bass and approx 50 bluegills from 1pm to 7pm. The bass were biting on my custom made "stiff neck special" 2-inch worm with a split tail and a few beads on a #6 hook fished on the surface. They can't help but attack that thing. I also caught a few on 8" black Power Worms, 6" natural colored Walmart worms, 6" melon Yakomoto worms, assorted jigs and rubber swim baits. They won't touch a buzz bait, never have. My homemade "stiff neck special" catches more fish than anything I've seen after fishing this lake for 16 years and it's what I use 90% of the time unless I'm going after the big ones. The bluegills stay tight to the shoreline guarding their nests. This time of year, they attack just about ANYTHING that hits the water. Cast within inches of the shore and if there's one there you'll hook him garanteed.
This is about med/large size for this time of year. Not real big but they're pretty fat. Lots of fun, especially on my ultralight rig and 4lb line. They'll grow by the time Sept rolls around.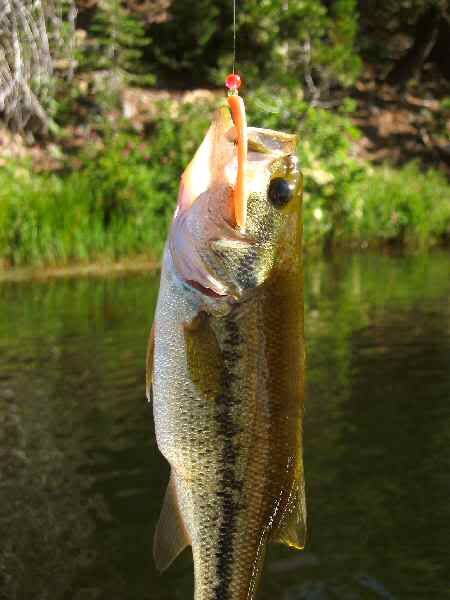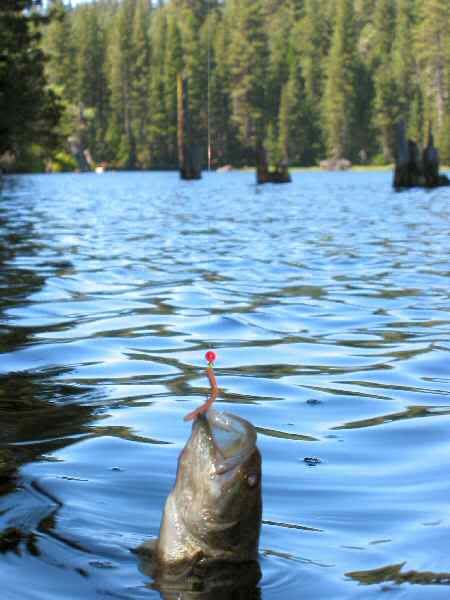 Tried one of these rubber swim baits and caught this guy on the first cast. Didn't catch anything else on that lure all day. ???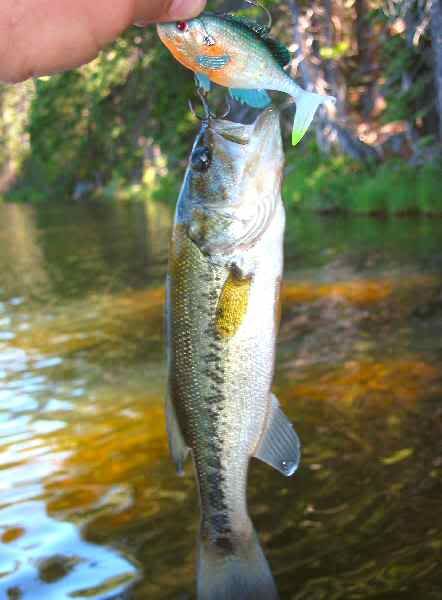 I started counting my percentages of casts vs catches. A few times I'd catch 4 bass in 4 casts. That's the highest I got. I caught 24 on the same 2" rubber worm before it finally fell off the hook. I caught 12 bass on this one, it ripped in two so I salvaged the tail end and caught 9 more including some bluegills before I retired it.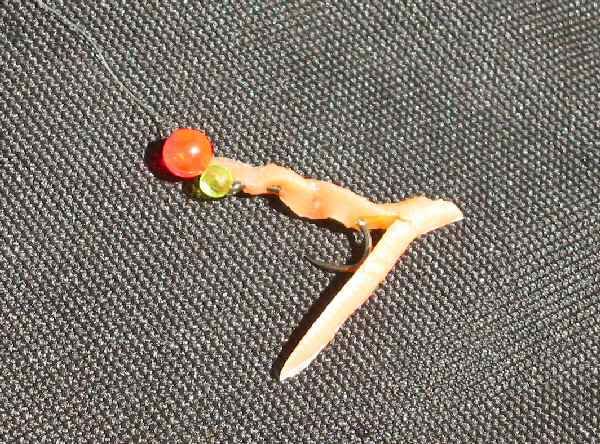 At the end of the day I kept a few bluegills for the frying pan for me and the Mrs. I think they're yummy fried in butter and fresh garlic, but hardly worth the work. It takes more time to clean them than it does to eat them.